Ireland's Economy Continues to Surge
(Bloomberg) -- Ireland maintained its position as the fastest-growing economy in the European Union during the second quarter of the year, as the threat of Brexit looms.
The economy grew 9 percent in the second quarter of 2018 compared to a year ago, the nation's statistics office said in Dublin Thursday. Consumer spending jumped 4.4 percent, while exports grew by 11 percent.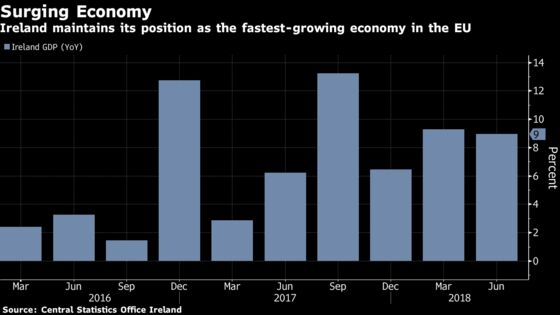 The "annual growth is a little bit too good to be true — pushed up by the multinational sector," Conall MacCoille, chief economist at Dublin-based securities firm Davy, said in a note. "The multinational sector may be boosting the headline figures, but growth is broad based."
MacCoille is likely to raise his GDP forecast for the year "towards 7 percent" from 5.7 percent previously.