ECB May Have Lost Its Enthusiasm for Riskier Corporate Debt
(Bloomberg) -- The European Central Bank might be joining a growing wave of investor pessimism on corporate debt.
Since July, the institution's credit buying has slowed noticeably as purchases under its quantitative-easing program have increasingly focused on sovereign bonds. This might be because a jump in event risk is finally sapping enthusiasm for holding risky debt, according to Bank of America Merrill Lynch.
The ECB could be moving its credit buying up in quality, from the lowest tier of investment-grade debt -- triple B -- to the second lowest -- single A -- to better manage risks and the high exposure of BBBs to troubled emerging markets, the bank's researchers said. That means spreads between the two tiers may continue to widen as the ECB enters its final quarter of bond buying.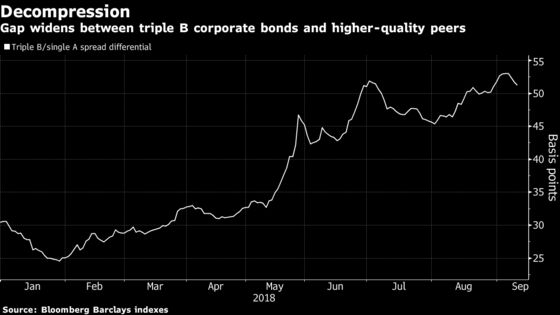 "Surveying the recent ECB buying data makes us worry that the ECB may have already lost its 'mojo' for buying corporate bonds," said Bank of America Merrill Lynch in a report. Its analysts first predicted the ECB may change buying habits after positions in troubled retailer Steinhoff International Holdings NV were downgraded to junk status last year.
European credit markets are struggling for liquidity as investors pull out of risky funds and supply picks up. Although the ECB scooped up pretty much every issue of corporate debt it could buy on the primary market in the last week of August, weekly purchases amounted to only 848 million euros ($986 million) -- well below the pre-summer rate.
This is indicative for the coming weeks with the ECB most likely no longer willing to take down "large chunks of paper" ahead of the asset-purchase program reduction to 15 billion euros per month in October, Cem Keltek, credit strategist at Commerzbank AG, wrote in a note.
ING Groep NV said there is market talk of the possibility for the ECB to re-allocate some of its reinvestments of maturing debt from other programs to the corporate-debt program. While such a move could benefit credit, its strategists said they did not consider it likely.