Brexit Bulletin: Momentum Is Growing
(Bloomberg) -- Today in Brexit: The European Union is redrafting its proposal on the Irish border, and betting that the U.K. will make concessions once the Conservative party conference is over. But Brexiteer rebels are getting nervous as their window of opportunity closes.
The momentum toward a Brexit deal is growing. The EU is shifting a bit, and European diplomats expect the U.K. to offer more concessions once Prime Minister Theresa May navigates the perilous season of party conference.
The trouble is that Brexiteer Tories are also making the conference a kind of deadline. If May doesn't change her stance on Brexit when she speaks on Oct. 3, there's talk among rebels that then would be the moment to oust her. It's not clear they have the numbers, and no firm plot has been made, but she could face a no-confidence vote soon after the conference, Tim Ross, Kitty Donaldson and Rob Hutton report.
The view among EU diplomats is increasingly that a deal can be done – a divorce plan that postpones a lot of the difficult decisions about the future until after Brexit day. But the risk to it all unraveling is at home.
EU officials including chief negotiator Michel Barnier have struck a more conciliatory and optimistic tone in recent weeks about the chances of getting an agreement. That change of tone has been driven, at least in part, by hints from British officials that they could be ready to accept a compromise on the Irish border after the conference.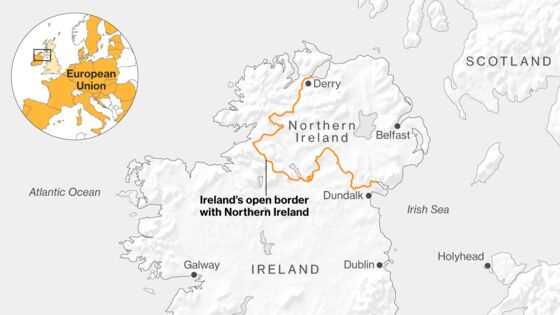 The EU side is redrafting its proposal on how to keep the Irish border open. It realizes that its first attempt would never be acceptable to the U.K. The focus now is how to minimize the checks between Northern Ireland and Britain. EU officials are looking at technical solutions that it can play down – checks that don't look like a border. That fits with Barnier's call to "de-dramatize" the issue. Any new proposal needs to win over the Northern Irish Democratic Unionist Party that props up May in Westminster. One diplomat said a new text might just allow the Democratic Unionist Party to sell it as a victory.
So what's the path to a deal? The next part of the choreography will come at a summit next week in Salzburg, Austria. Leaders are likely to signal they are ready to reach an agreement on security and defense cooperation to give May something to sell to her party at the conference, Ian Wishart reports. Leaders are also likely to put pressure on May to agree to the Irish border proposal. As the mid-October summit that's already in the diary may come too soon after the Conservative Party gathering, they are likely to call a leaders' meeting for the week of Nov. 12. And the text on the future relationship – the non-binding declaration that will accompany the divorce deal – will be drafted in such a way as to help May sell it back home. According to one diplomat, the EU is leaning toward writing "whatever suits Britain politically to get us across the line."
The U.K. will issue another batch of papers on Thursday setting out what a no-deal Brexit would mean for citizens and industry. There's already controversy about whether mobile-roaming charges would really return. Brexit Secretary Dominic Raab writes in the Telegraph that Britain stands ready to walk away without a deal. He's going back to Brussels for negotiations on Friday.
Rotterdam, Europe's biggest shipping port, says companies aren't doing enough for Brexit. It's preparing its own dry-run to make sure it's ready for the worst.
Theresa May's former aide Nick Timothy writes in the Telegraph that ousting May would kill the chances of a "clean Brexit" because the ensuing chaos would embolden the majority in Parliament that wants a softer split.
It Won't Be That Bad | Ryanair Holdings chief Michael O'Leary, an outspoken Brexit critic and doomsayer about the prospect of no-deal, is investing in new routes that will come on line just days after the split. The low-cost carrier will add 23 destinations at four London airports for its summer 2019. O'Leary said any disruption would probably last a matter of days. "We don't think those disruptions will last very long because they are politically unsaleable both to the British electorate and the EU electorate," O'Leary told Bloomberg Television. "Even Jacob Rees-Mogg and some of the crazier wing of the Brexiteers will struggle to explain why there are no flights."
The Rock Is No Obstacle | The push to seal an agreement over Britain's departure won't be held up by wrangling over the future of Gibraltar, Spanish Foreign Minister Josep Borrell told Bloomberg in an interview. "For Spain, a cliff edge situation would be very damaging," he said. "Gibraltar will not be the last stone in the road. I hope. This is not going to happen."
Red Meat for Brexiteers | Theresa May wants to announce stricter immigration controls at the Tory party conference in an attempt to reassure Brexiteers and steady her leadership, the Times reports. A special Cabinet meeting is planned for Sept. 24 where May is expected to force ministers to adopt a tough post-Brexit system.
Seven-Year Switch | The U.K. set out new agriculture legislation that replaces EU subsidies for farmers and places more emphasis on environmental standards. The bill includes a seven-year transition period and details how farmers will be paid for criteria such as better water quality and animal welfare standards.
On the Markets | The pound continues to whipsaw on Brexit headlines, with traders on edge as they try to parse every word uttered by European and U.K. politicians. It's closed above $1.30 all this week and traded at $1.3047 early Thursday.
Coming Up | Cabinet meeting on no-deal, followed by the publication of the papers, probably in the afternoon. The Bank of England is expected to hold interest rates steady. Trade Secretary Liam Fox speaks in Parliament at 9:30 a.m.
Want to keep up with Brexit?