BOE's Carney Joins Cabinet Meeting Reviewing No-Deal Brexit
(Bloomberg) -- Bank of England Governor Mark Carney joined government ministers at a meeting Thursday to discuss preparations for a no-deal Brexit.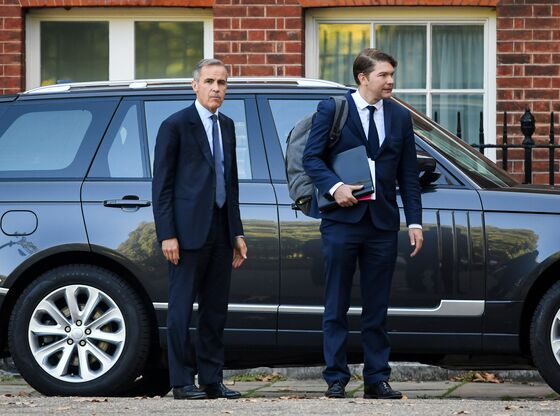 Pictures of Carney entering the back door of 10 Downing Street -- where a three-hour Cabinet meeting was held this morning -- were posted by a photographer known for snapping images of briefing documents, while he was also photographed leaving about 90 minutes later. Government spokeswoman Alison Donnelly later confirmed Carney attended the first part of the meeting to outline the BOE's planning for a no deal.
Chancellor Philip Hammond announced this week that Carney will extend his tenure at the central bank by an extra seven months to ensure continuity during the potentially turbulent period after Brexit. The governor has previously said that he spends about half of his time working on issues related to Britain's exit from the European Union.
The BOE is set to publish its latest policy decision at noon, with all 60 economists surveyed by Bloomberg predicting officials will keep the key interest rate at 0.75 percent.