U.K. Tycoon Festoons $257 Million Yacht With Bacon Artwork
(Bloomberg) -- How do you decorate a superyacht's interior? If you're anything like London-born billionaire Joe Lewis, you might start with the works of one of your country's most famous painters.
Lewis's 321-foot (98-meter) yacht, Aviva, has captivated the public since anchoring more than two weeks ago in the tourist-teeming docklands beside London's Tower Bridge. While some passersby have asked who owns the vessel and ogled its gleaming exterior, those more familiar with Britain's 20th century artists may have noticed what appears to be Francis Bacon's "Triptych 1974 - 1977" hanging on its lower deck in golden frames.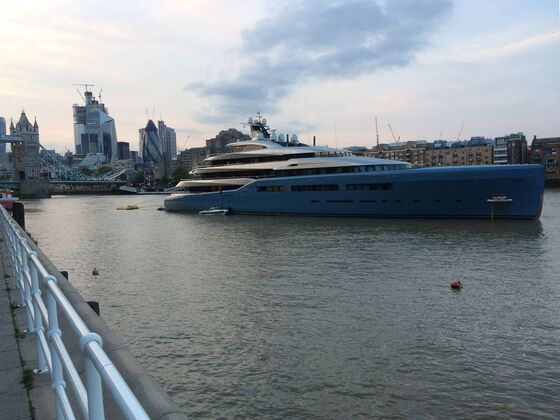 "People put their art on yachts all the time, but usually it's not their most valuable pieces," Katja Zigerlig, vice president of art, wine and collectibles at insurance company Berkley One, said by phone. "From a conservation standpoint, it's not ideal," and is akin to "taking your newborn on a safari trip to Africa."
Lewis, 81, bought the work -- Bacon's last triptych focused on the loss of his lover George Dyer, who committed suicide in 1971 -- a decade ago for 26.3 million pounds ($34.3 million). The piece is now worth about $70 million, according to a person with knowledge of the asset. The vessel it graces is estimated at $257 million, according to VesselsValue.
The panels, each almost 7 feet tall and 5 feet wide, more recently formed part of an exhibition celebrating U.K. painters of the human form at London-based art gallery Tate Britain. An online guide for the exhibition, which closed on Aug. 27, identifies "The Lewis Collection" as the owner of the three paintings.
Bacon, an untrained painter and master of the macabre, died in 1992 at age 82. In the central panel of "Triptych 1974 -1977," Dyer's disfigured body kneels on a blue-skied beach beside a black void. For the setting, Tate Britain said Bacon was "indebted" to Edgar Degas's 1876 "Beach Scene."
The piece is "a kind of landmark" for Bacon because of its beach backdrop, the artist's biographer, Michael Peppiatt, told Christie's in 2008. Bacon usually "has everything happening within four walls, and then for some mysterious reason, and I won't pretend to know why, this takes place outside," he said.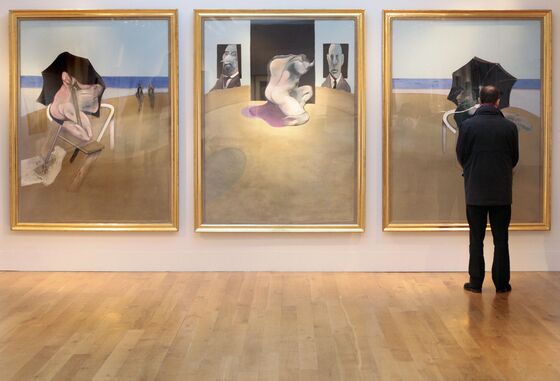 Lewis owns Tavistock Group, a Bahamas-based holding company that has stakes in more than 200 businesses worldwide. His investments include real estate, resorts and restaurants. The billionaire, who made his first fortune through currency trades during the 1990s, also owns North London soccer team Tottenham Hotspur. He's the world's 297th-richest person with an estimated $5.6 billion, according to the Bloomberg Billionaires Index.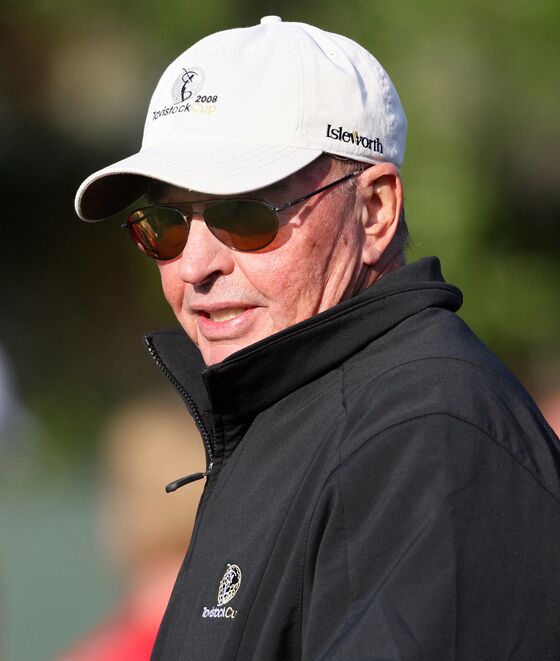 Representatives for Lewis didn't reply to messages seeking comment.
He now spends most of his time in the Bahamas. On top of works from Bacon, his art collection includes pieces by Picasso, Freud, Klimt and Degas. Tavistock Group's website describes his trove as "one of the largest private art collections in the world."
Lewis is looking to offload a painting from one of the U.K.'s most celebrated living artists, David Hockney, 81. Lewis is seeking $80 million for "Portrait of an Artist (Pool with Two Figures)," which would make him the most expensive living artist at auction.