Pot Stocks Aside, Canadian Equity Market Limps Into September
(Bloomberg) -- Canadian stocks have started September on the back foot.
The S&P/TSX Composite index bounced back from a three-month low in Toronto Tuesday, rising as much as 0.2 percent, after posting its longest streak of losses since Jan. 2016. The gauge's 1.1 percent drop last week pushed it into the red for 2018, underperforming the S&P 500 Index, which has gained 8 percent.
Trade negotiations in Washington that don't appear to be making significant progress have been the main drag on the market. Turmoil in developing nations has also put pressure on commodities, and materials stocks have been the worst performers in Canada this year. Meanwhile, energy companies are getting hit by renewed concerns over pipeline capacity, according to BMO investment strategist Brian Belski.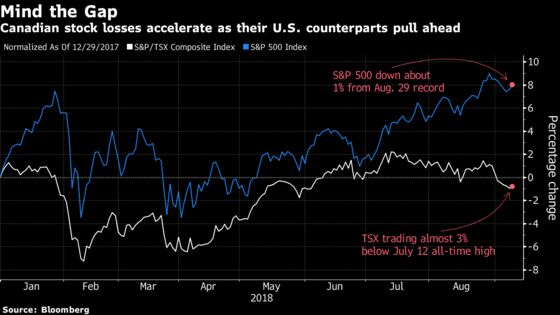 While Belski anticipates the Canadian equity market will recover given its "strong and stable" fundamentals, Canaccord's analyst Javed Mirza cautions that some indicators suggest further weakness. A strong U.S. dollar will continue to pressure commodity prices, and the TSX Composite index triggered a new technical sell signal two weeks ago, he wrote in a research note on Sept. 9.
Canadian health-care stocks have skirted the selloff, gaining 19 percent this year as cannabis-related companies continue their monster rally. Horizons Marijuana Life Sciences Index ETF reached C$1 billion in assets under management just last week, making it the world's largest cannabis-focused exchange-traded fund.
Recreational marijuana will become legal in Canada on Oct. 17.