Map: Latest Forecast Cones for Hurricane Florence and Tropical Storm Isaac
(Bloomberg) -- Here are the latest forecast cones for Hurricane Florence and Tropical Storm Isaac from NOAA: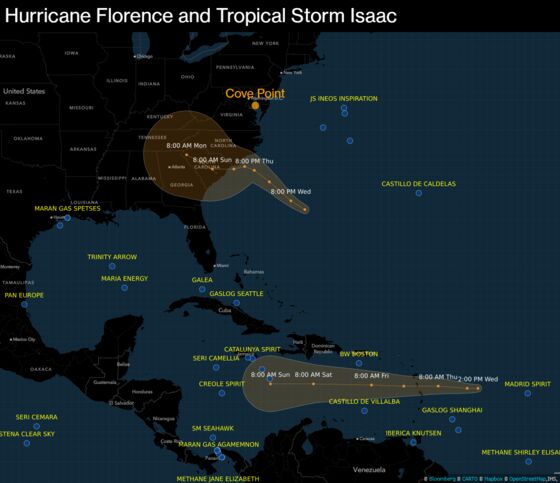 Click here to map of LNG tankers worldwide on an hourly basis
Isaac appears to be weakening but is still projected to be at tropical storm intensity when it approaches the Lesser Antilles in the Eastern Caribbean and provides an obstacle for tankers departing Cheniere Energy Inc.'s Sabine Pass taking South Atlantic routes.
Hurricane Florence's updated projection shows it on course to impact the Carolinas. It is expected to bring tropical storm intensity near the mouth of the Chesapeake Bay, but the latest projection suggests limited impact on Dominion Energy Inc.'s Cove Point facility. The Clear Horizon is the closest vessel destined for the Maryland terminal.
Sources: NOAA, IHS, Genscape, Bloomberg Vessel Tracking