Bankers Can't Always Tilt at Merger Windmills
(Bloomberg Opinion) -- Let European banks merge – in the name of the resistance. That was the unspoken message from former Deutsche Bank AG CEO Josef Ackermann, who told Bloomberg Television this week that U.S. banks' global dominance in the era of Donald Trump should stir Europe's banks into joining forces and gaining scale. He urged regulators to help.
As if on cue, more names were thrown into the ring on Tuesday. UniCredit SpA, which the Financial Times said in June was weighing a deal with France's Societe Generale SA, is considering Spain's Banco Bilbao Vizcaya Argentaria SA or ABN Amro Group NV of the Netherlands as potential targets, according to MF.
There are good reasons to view takeovers – however tentative and far away they may be from happening – as an answer to the problems European banks face. Low interest rates have squeezed margins. Consolidation could be an opportunity to reduce costs and add scale with which to better fight U.S. rivals.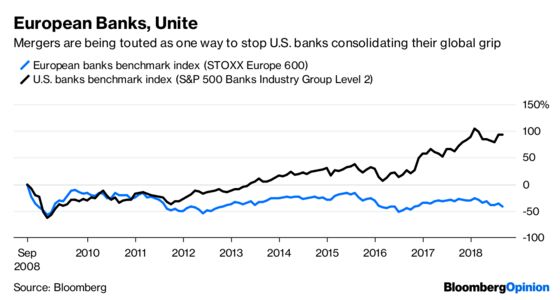 But shareholders should be wary of this enthusiasm for deal-making leading to a new round of value-destroying mistakes. Cross-border bank mergers have a habit of failing to deliver on their promises. There have been few since the catastrophic Royal Bank of Scotland Group Plc-led purchase of ABN Amro Holding NV completed in 2008 – with good reason.
The cost efficiencies tend to be elusive: a 2002 study by researchers at the University of Ghent found evidence of only limited performance improvements following cross-border banking deals. Regulators now penalize banks for getting bigger by requiring the most to hold a greater proportion of their assets as capital.
These factors might explain why a profitability gap has opened up between those banks that expanded overseas and their more domestically-focused peers.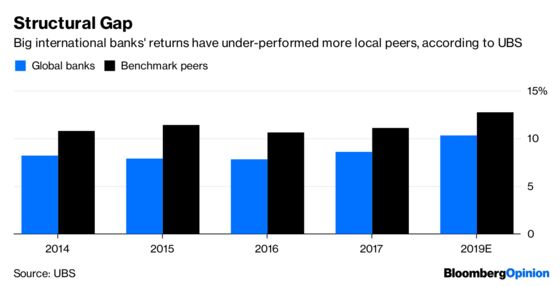 Research by UBS analysts has found that the return on tangible equity of a basket of international banks including Citigroup Inc., HSBC Holdings Plc and Standard Chartered Plc under-performed the industry benchmark by about 2.6 percentage points in 2017. Risk-adjusted share-price returns were also better for their local peers. Economies of scale don't appear to have offset the cost of complexity.
Does this mean European bankers should give up tilting at merger windmills? Not necessarily. UBS analysts reckon there are ways to maximize the opportunities involved: buying a rival with more digital expertise would bring a head start to a cost-reduction drive, for example.
Regulators, for their part, could do more to clear the way for greater consolidation. A more complete banking union, or at least a common deposit insurance program in the euro zone, something that has been resisted by Germany, would help.
But it's worth remembering that some problems are best solved alone, or at least at the local level, before manning the barricades and calling for patriotic deal-making. Investors have endured enough pain over the past decade without the hassle of empire-builders.
This column does not necessarily reflect the opinion of the editorial board or Bloomberg LP and its owners.
Lionel Laurent is a Bloomberg Opinion columnist covering finance and markets. He previously worked at Reuters and Forbes.