Abu Dhabi Stock Exchange Aims to Start Futures Trading Next Year
(Bloomberg) -- Abu Dhabi's stock exchange is joining a race to introduce derivatives as Gulf bourses including Kuwait and Saudi Arabia put strategies in place to lure more investors.
The Abu Dhabi Securities Exchange, known as ADX, plans to enable trading of futures contracts on single stocks in 2019, and they may eventually be available for the benchmark ADX General Index, Chief Executive Officer Rashed Al Blooshi said Monday in an interview, without specifying any starting dates.
Saudi Arabia's stock exchange, the biggest in the Middle East, announced last week that it will introduce index-futures trading next year, with the contracts and options on single stocks expected to be available by 2020. Investors can already trade futures on United Arab Emirates company stocks listed on the Nasdaq Dubai exchange, but liquidity is thin. The derivatives will also be part of reforms Kuwait is undertaking that may result in the exchange's upgrade to emerging-markets status at MSCI Inc. next year.
"We are now thinking, how is the best set-up for the derivatives market?" Al Blooshi said outside a conference in London. Introducing derivatives marks a "radical" change, as "system-wise, you can get them tomorrow. But it is the culture that you need to develop, the players you need to have," to create a viable product.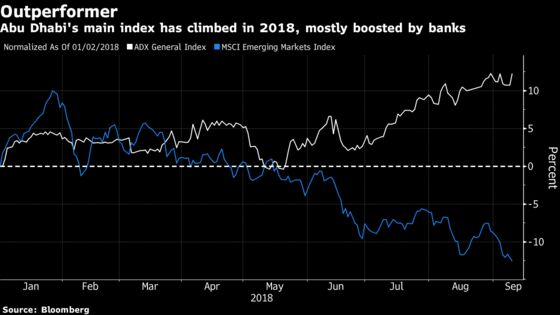 Abu Dhabi's main stock gauge has jumped more than 13 percent this year, with banks contributing the most to the gain because of mergers and acquisitions. The performance compares to a drop of about 12 percent for the MSCI Emerging Markets Index.
The stock exchange is in touch with seven companies that are planning IPOs and that are looking for the "right time" for a sale

Most of the companies are from the U.A.E.

About 48 percent of the 966,000 investors registered with the bourse are from outside of the U.A.E.
ADX expects to attract more bond listings from companies and member governments in Gulf Cooperation Council countries
Reforms of Saudi Arabia's stock market will make that country's exchange more "complementary than competition" to the U.A.E.'s bourses