Japan's Ramped-Up Business Spending Fuels Faster GDP Growth
(Bloomberg) -- Japan's economy grew at the fastest pace in more than two years in the second quarter, revised figures show, with a sharp increase in business investment providing additional momentum for now.
The spurt in capital spending points to continued optimism in the growth outlook, despite simmering global trade tensions. The threat to global trade from President Donald Trump's tariffs on Chinese goods and a possible levy on all car imports are big risks to Japan's export-focused manufacturers.
The stronger-than-estimated business investment in the three months through June partly comprised spending on labor-saving equipment as companies searched for ways to deal with the current a shortage of workers as the population ages and shrinks, according to economists. The pace of economic expansion is expected to slow in the current quarter as natural disasters take their toll and as the burst of capital expenditure eases, they said.
"The GDP growth data shows that things are going well up to this point, but Japan's economy is gradually entering into a period of increasing uncertainty," said Kyohei Morita, chief Japan economist at Credit Agricole Securities Asia.
Measured quarter on quarter, GDP rose 0.7 percent, as forecast by economists, compared with a preliminary reading of 0.5 percent.
The reading for annualized GDP expansion was revised to 3 percent, versus projections for 2.6 percent and an initial reading of 1.9 percent.
Nominal GDP increased by 0.7 percent, just above estimates of 0.6 percent and comfortably higher than the first reading of 0.4 percent.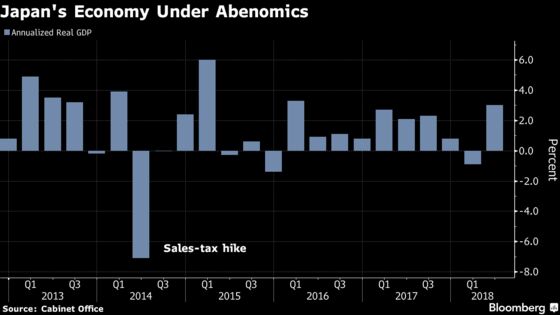 Just this month, an earthquake in Hokkaido cut off electricity to three million buildings while a typhoon flooded an airport and battered the industrial region around Osaka. Looking further ahead, and a scheduled sales-tax hike next year is the biggest cloud on the domestic horizon. The economy contracted last time the levy went up, in 2014.
Prime Minister Shinzo Abe, who looks set to win re-election as leader of the ruling Liberal Democratic Party next week, has pledged to go ahead with the tax. Credit Agricole's Morita said "it's almost certain that Abe will take every measure and compile a fiscal package to prevent households from taking a big hit."
What our economist says...
"This is good news -- the hotter the economy, the more likely wages will pick up, supporting consumer spending. The strength in capex is in line with our view that a structural ramp-up in domestic production capacity is underway -- a prop for growth ahead." Still, U.S. protectionism presents an increasing risk to the growth outlook. 

--Yuki Masujima, Bloomberg Economics

For more see our JAPAN REACT
Business spending was revised to growth of 3.1 percent, the fastest expansion in more than three years. That beat the forecast of 2.8 percent and the initial reading of 1.3 percent.
The contribution to growth from business investment was the largest since the first quarter of 2015.
Private consumption grew 0.7 percent, as projected and equal to the initial reading.
The current account for July showed a 2.01 trillion yen surplus, versus a forecast of 1.89 trillion yen.
The balance of payments data showed a record high for July for primary income and a fresh high for the number of visitors to Japan.