Hershey Gets Into Online Shoppers' Heads
(Bloomberg Opinion) -- The packaged-food industry faces an unenviable list of problems right now. The most existential is shoppers' embrace of healthy eating habits, but these companies also are being pummeled by insurgent niche brands, rising commodity costs, and retailers' focus on private labels. Several are also navigating a CEO change or other leadership drama, while others have become the target of activist shareholders. 
Perhaps because all those issues loom so large, another of the category's major challenges tends not to get as much attention,  but it's just as crucial that these companies get it right— and that's finding ways to adapt to the rise of e-commerce.
Hershey Co., the chocolate empire, outlined its digital strategy in a webcast Thursday, highlighting its use of technology such as data analytics and personalization, but also more unexpected things like rethinking pack sizes for its treats. 
Listening to Hershey executives talk about the specific challenges they are trying to address challenged my assumptions somewhat about the digital work the wider packaged-food business has ahead. I once had thought that with grocery being one of the last frontiers in online shopping, companies like Hershey could crib a good bit from the playbooks of the apparel, electronics, and toy businesses that made this shift long ago. As it turns out, though, packaged food has highly particular hurdles and opportunities in this area.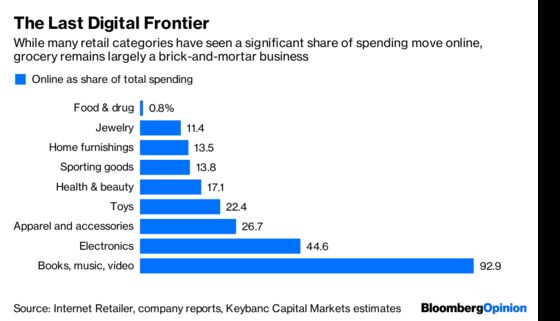 In the webcast, Hershey said it is finding that different pack sizes make sense not just for e-commerce versus brick-and-mortar, but for different sub-segments within e-commerce. Doug Straton, Hershey's chief digital commerce officer, said, for example, that on Amazon.com Inc., the company is emphasizing multi-packs of 24 or 36 regular-sized candy bars. For models like Peapod grocery delivery or Walmart Inc.'s online grocery pickup, they're featuring the snack-size candy packs typically found in a supermarket. On GoPuff, an on-demand delivery service that caters to the late-night crowd, they're focused on single-serve items you'd scarf down in one sitting.
All of this is aimed at greasing the wheels for an impulse buy, a behavior that has always been crucially important for the candy business but that plays out very differently online than it does at a store. Hershey is smart to put surgical effort into adapting to that dynamic, and all of its competitors should be doing the same.
Each digital model has different economics, but Hershey has said its gross margins in e-commerce overall end up being "quite comparable" to overall gross margins.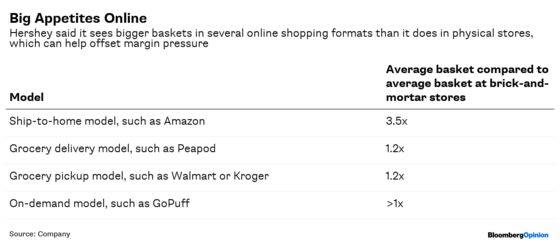 Hershey executives also talked about finding ways to make its candy brands, which include Reese's and Twizzlers, more than just impulse buys — to actually get them on your grocery list. Since online grocery shoppers often just reorder from a stored list, once you're in, you're in. That's a noble ambition, but I suspect it will be difficult to achieve in this health-conscious moment. Still, Hershey is right to try, and marketing and a jazzier social-media presence could help make it happen.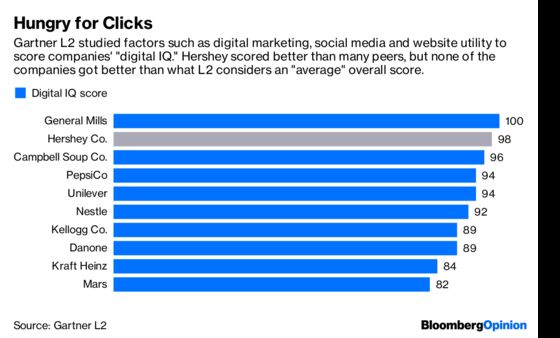 Meanwhile, Hershey also has had to add offerings such as cold shipping from Amazon during the summer so online shoppers don't end up with a gross mess of melted chocolate on their doorsteps.
All of these are simply not the same behavioral or logistical hitches that were faced by other segments of retail that have already undergone extensive digital transformation. So packaged-food companies are going to have to blaze their own trails.
And they largely are going to have to do it within the online ecosystem as it already exists. While power brands in apparel such as Nike Inc. or Tapestry Inc. are working to do more business from their own stores in the Amazon era, that is simply not practical for the packaged-food giants. They will have to figure out how to get in your digital carts by working hand in hand with big retailers like Kroger Co. and Target Corp.
It's only a matter of time before more of us are grocery shopping by swipes and taps. The big brands that do the most to get on this trend now are ones that will have the best shot at finding a place in our digital shopping carts.
This column does not necessarily reflect the opinion of the editorial board or Bloomberg LP and its owners.
Sarah Halzack is a Bloomberg Opinion columnist covering the consumer and retail industries. She was previously a national retail reporter for the Washington Post.