Here's What Wall Street Is Saying About Moonves's Exit From CBS
(Bloomberg) -- The exit of CBS Corp.'s long-time chief executive officer Les Moonves hasn't erased Wall Street's concerns about the mounting uncertainties facing the stock. Moonves helped transform CBS into the U.S.'s most-watched television network and was deeply involved in programming and scheduling, according to Credit Suisse. Analysts caution that his exit could be followed by other executive departures. The shares fell as much as 3.9 percent Monday, their biggest drop since July 30.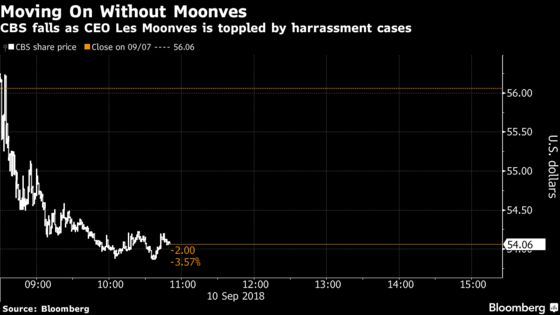 Credit Suisse, Douglas Mitchelson
"We certainly expect some investor trepidation regarding how well the CBS Network, and to a lesser extent CBS TV Production, will operate without Mr. Moonves, who was deeply involved in TV programming development and scheduling."
However, Credit Suisse says Moonves leaves behind a strong management team, including acting CEO Joseph Ianniello, who has been responsible for strong operation execution.
Credit Suisse rates CBS outperform with a $66 price target.
Cowen says former COO Ianniello's elevation to temporary CEO is the best choice for CBS and its shareholders as "he is generally well respected on the Street as an operator and negotiator, and minimizes potential internal disruption including retaining key talent."
However, Cowen cautions that Ianniello is associated with Moonves and sexual harassment allegations have extended to the overall culture of the company.
"While we expect no operational impact in the near-term, CEO uncertainty will likely maintain some pressure on CBS's multiple."
"We remain market perform given continued succession uncertainty and the potential for a recombination with Viacom in two years time."
Morgan Stanley, Benjamin Swinburne
Moonves's exit will likely lead to some heightened operational risk but also elevated strategic opportunities. Swinburne says "the settlement between CBS and its controlling shareholder appears to provide the Board with some guarantee it can explore strategic options."
For investors, the strength of CBS over the years has been driven by its content production and its forward thinking on digital distribution. Morgan Stanley says these two areas are likely to be closely watched for signs of slippage.
"Leadership, talent relationships, and execution are keys to success, and CBS' leadership team must maintain focus during this period of change to avoid falling back."
B. Riley FBR, Barton Crockett
The recent development "opens the door a crack to what we believe ultimately could be the best outcome -- consideration of merger potential with other platform companies seeking deeper exposure to impactful content."
"Verizon could reconsider CBS as a way to deepen its content presence and close a content gap with AT&T."
B. Riley FBR maintains a buy rating on CBS with a $61 price target.
Ianniello "will likely leave the company before the end of calendar 2018," BTIG says, citing similar management moves made by Viacom Inc.
"Ianniello protected Moonves for years, had a similar focus on short-term cheerleading actions versus real long-term strategy, and was overpaid for years for his support of Moonves."
Greenfield does not see a buyer for CBS beyond Viacom, "which is why it would make sense for CBS to proactively propose a Viacom transaction sooner than later as scale is becoming increasingly critical in the media industry."
"No clear buyer is apparent and Mr. Moonves's departure may also prompt other executive departures and a period of internal disruption."
"Mr. Ianniello should be given an opportunity to compete for the CEO position on a permanent basis. However, we believe his close ties to Mr. Moonves significantly reduce the likelihood of him being named the permanent CEO, given the nature of Mr. Moonves's departure."
CBS's little international presence and limited direct-to-consumer expertise could limit premium in potential acquisition, Hargreaves says.
KeyBanc maintains a sector weight rating on the stock.