Overvalued Dollar Is Sell Signal for Unabashed EM Bull Pictet
(Bloomberg) -- Pictet Asset Management is flashing its love for emerging markets and disdain for the dollar.
It's not embarrassed to say it.
The reasoning's simple. The U.S. currency is "as richly valued as it's been for at least a quarter of a century," according to Luca Paolini, chief strategist at the $516 billion Geneva-based money manager in a note on Friday. The greenback is overbought and "vulnerable to a correction," he wrote.
The firm is snubbing the dollar -- and clinging to local EM bonds that last week marked a 240-day slide, the longest stretch in a decade, as greenback strength deepens a selloff in developing markets.
Underscoring its conviction, the firm is upping exposure to the euro to neutral from underweight. Meanwhile, currency risk reversals point to waning dollar strength versus the yen over three months.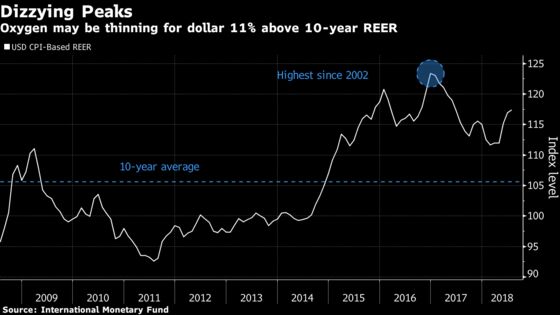 By conventional measures, the greenback is trading over 10 percent above its 10-year average in real effective terms, according to the International Monetary Fund. Meanwhile, the Federal Reserve's trade-weighted dollar index has climbed to within 4 percent of its 2002 record high.
"A weaker dollar should be good for emerging-market local debt, on which we retain an overweight position," Paolini wrote. "The greenback's ascent may have run its course."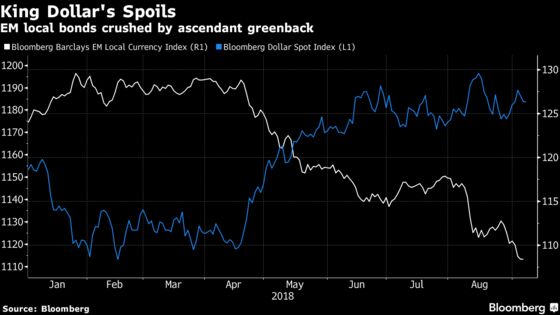 Valuations also point to relief for feeble EMs, according to Paolini. Meanwhile, China is being proactive against the U.S. tariff threat, pumping monetary stimulus that it may supplement with fiscal easing, according to the strategist.
The firm's other positions include:
Overweight Treasuries as a volatility hedge
Overweight gold given over-extended shorts
Negative on European and U.S. equities because of "poor value"
Cautious on credit amid high valuations and rising corporate leverage -- and the asset class tends to underperform late in cycle
Reduces Swiss franc position to neutral to buffer against possible FX volatility