CBS Awaits Its Fate After Les Moonves Meets His
(Bloomberg Opinion) -- It's a new day at CBS Corp. Les Moonves has officially been shown the door, and Shari Redstone has asserted her control. But let's face it, there couldn't have been any alternative endings to this saga.
CBS said late Sunday that the chairman and CEO was departing effective immediately and without any severance benefits until the conclusion of an independent investigation into the now numerous accusations against him of sexual harassment and retaliation. His removal appeared to be hastened by further allegations that were revealed in another New Yorker article over the weekend, which Moonves denied and said were "part of a concerted effort by others to destroy my name, my reputation, and my career." The reporting by Ronan Farrow, whose work also helped bring down Harvey Weinstein, portrays a toxic culture within parts of CBS. It's left many observers thinking, what took the board so long to act? 
For months, Moonves has been at odds with Redstone, who has voting power over CBS by way of her family's National Amusements Inc. (NAI) entity. Their relationship reportedly deteriorated over the past year as Redstone pushed for a merger of CBS and Viacom Inc., MTV's parent company that's also controlled by NAI. Moonves and his allies on the board responded by trying to strip NAI's voting rights. As part of the settlement announced Sunday, Redstone has agreed not to push for such a deal for at least two years and the board is getting a deserved refresh.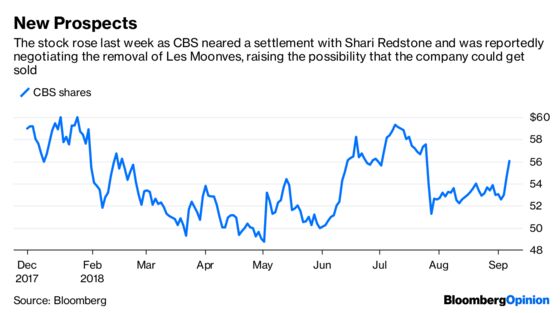 I wrote Thursday that CBS's #MeToo missteps and partly ego-driven dispute with its controlling shareholder are lessons for other companies in the industry, a group led by aging moguls that lacks much diversity and has largely unclear succession plans. But now it's time to think about the future of CBS, especially given that a Viacom merger appears to be off the table. 
It would be a mistake to say Moonves's departure is a loss for the company. If the accusations are true, his exit didn't come a day too soon—although it does mean attendees of this week's Goldman Sachs Communacopia conference in New York won't get to hear him present as planned (he was still on the schedule as of last week). As an executive, he was heralded as the best in TV programming, and led CBS to ratings gold. He also brought CBS into the digital realm by launching two popular streaming apps, helping to capture and retain viewers who are increasingly cutting the cable cord. It will take time for investors to embrace his interim replacement, Joe Ianniello, the chief operating officer since 2013 who ascended through the accounting operations. Although, in my opinion, he's unlikely to be a permanent replacement.
Perhaps CBS won't even need one. If there were ever a time for an acquirer to swoop in for CBS, it's now. The $21 billion company offers valuable content while hit movies and TV shows are all the M&A rage. Rupert Murdoch secured a $85.1 billion deal in recent months to sell much of his 21st Century Fox Inc. to Walt Disney Co., following a bidding war with Comcast Corp. AT&T Inc. also completed a $102 billion takeover of Time Warner, and Discovery Inc. purchased Scripps Networks.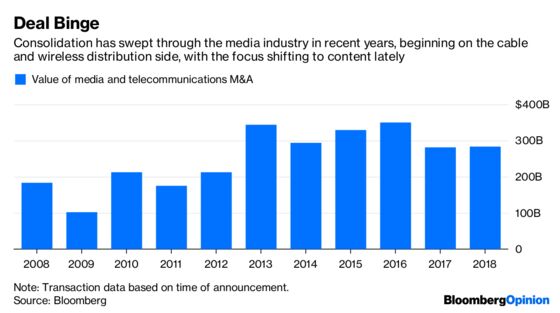 Industry cross-pollination such as AT&T's Time Warner deal—which brought together a wireless carrier, satellite-TV service, streaming app and TV and film businesses—potentially opens up a list of unconventional suitors, including Apple Inc. and Amazon.com Inc. However, my colleague Shira Ovide, who follows the tech giants, has contemplated this idea and noted that building a media empire would be far preferable to buying one. Netflix Inc. is the shining example of that.
Should Verizon Communications Inc. wish to follow in its rival AT&T's footsteps, CBS would be an obvious choice. But the No. 1 U.S. wireless carrier has a newly minted CEO who is more focused on launching a 5G network and seems to be de-emphasizing Verizon's media bets. I've written that it's better off staying in its tech swim lane. 
CBS investors can breathe a sigh of relief that the destructive infighting, management distractions and leadership uncertainty is being put behind it. But don't roll the credits just yet because there will be more developments to come. This is still a Redstone company, after all. 
This column does not necessarily reflect the opinion of the editorial board or Bloomberg LP and its owners.
Tara Lachapelle is a Bloomberg Opinion columnist covering deals, Berkshire Hathaway Inc., media and telecommunications. She previously wrote an M&A column for Bloomberg News.