Les Moonves Was Not a Good CEO
(Bloomberg Opinion) -- The morning after Les Moonves was finally — finally! — forced out as the chief executive and chairman of CBS Corp., I pulled up the transcript from the company's second-quarter conference call, which had taken place on Aug. 2.
Just days earlier, the New Yorker had posted Ronan Farrow's first devastating article about Moonves, in which six women said he had either sexually harassed or sexually assaulted them. "He has gotten away with it for decades," said one of the women. "And it's just not O.K." The night before the conference call, the board had hired two white-shoe law firms to investigate the allegations. But the directors, most of them Moonves pals, kept Moonves on as CEO, and he led the earnings call, just as he's done since 2006, when Viacom Inc. and CBS split into two publicly traded companies.
As was much noted at the time, CBS began the call by announcing that "on the advice of counsel," the company would take only questions relating to the quarterly results. When the analysts meekly complied, they were widely — and deservedly — mocked.
But what mainly struck me as I read the transcript is how small-bore it was, how lacking in vision. Moonves threw out quarterly numbers that, at most companies, are more often delivered by the chief financial officer: revenue up six percent, earnings per share up eight percent, 34th consecutive quarter of EPS growth etc. "We remain firmly on track to deliver the kind of full-year results we told you we would," Moonves crowed, affirming the company's guidance.
He went on to describe the "premium content" at both CBS and its Showtime division, the growth and proliferation of its streaming services like CBS All-Access, and its goal of reaching 16 million streaming subscribers in 2022, "doubling our original goal in just two additional years." Although Moonves threw around the word "strategy" a lot, what he mostly meant by that was adding more shows, adding more streaming and adding more subscribers. 
There were no larger ideas — no sense that Moonves had a plan for competing in a future where Netflix has size CBS can't match (130 million subscribers), HBO has content it can't match ("Game of Thrones"), and AT&T-Time Warner has revenue it can't match ($158 billion vs. $14 billion). Nor was there any inking that he might invest for the future if it meant taking a short-term hit to earnings, something Netflix does as a matter of course. Rich Greenfield, the BTIG analyst who has been a rare Wall Street voice critical of the CBS chief executive, says that Moonves has long preferred to "focus on short-term cheerleading actions versus real long-term strategy." Greenfield is right.
This strategy has been tremendously lucrative for Moonves personally. According to the Wall Street Journal, his 2017 compensation was $69.3 million. In 2016, it was $60 million, Bloomberg reported. Last year, the CBS board offered him a contract extension worth upwards of $200 million. Much of that compensation has come in the form of stock awards, which he essentially gets for free, because restricted stock just has to vest to have value.
Despite his undeniable focus on the CBS's stock price, the company's shareholders have not fared nearly as well. Moonves' supporters like to point out that the stock has doubled since he took over. Even so, it has lagged behind the S&P 500 index. And over the last five years, CBS has been crushed by the index. All the while, it's been a volatile ride for investors, and those who have made money — aside from executives with restricted stock — are those rare souls who have been able to time its ups and downs.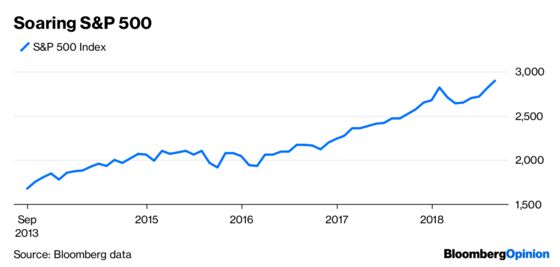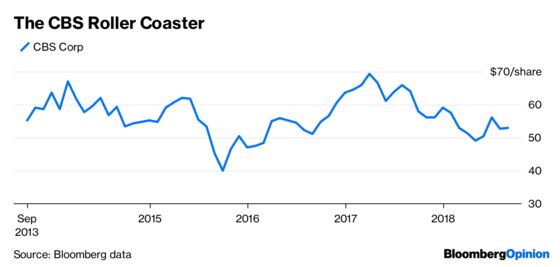 For most of his tenure, Moonves was viewed as the "good" CEO in the Viacom family, but that was mainly because Viacom's chief executive, Philippe Dauman, was so plainly incompetent. CBS made money by producing shows for an older demographic (Moonves, 68, was undeniably a good programmer for people his own age) and by attaching itself to the National Football League. But the more coveted audiences — those gravitating to streaming — aren't much interested in "NCIS" or "Madame Secretary." And the NFL's ratings have been slipping badly in recent years. The Moonves strategy, such as it was, was running out of time.
Then there was Shari Redstone, the controlling shareholder of both Viacom and CBS. For most of Moonves's tenure, Shari Redstone was not a factor because her father, Sumner Redstone, was still ostensibly in charge. But in 2016, with Sumner largely incapacitated, she essentially took over Viacom, replacing Dauman and installing board members more to her liking.
She then wanted to recombine the weaker Viacom with the stronger CBS, to give the newly joined company a little more heft to help it compete in a consolidating media landscape. But Moonves resisted, and incredibly CBS went so far as to sue its controlling shareholder. Even without the sexual harassment allegations, there was no way this was going to end well for Moonves.
It is ironic that the same company that was so quick to jettison Charlie Rose turns out to have a chief executive facing even worse allegations. The accounts in Sunday's New Yorker story are horrifying, including forcing several women to give him oral sex, exposing himself, and attempting to damage the careers of women who resisted him.
The board should have gotten rid of him after the first story came out this summer, but directors were afraid to. He had convinced them — just as he had convinced most of Wall Street — that he was irreplaceable, that he was worth every penny of his $60 million-plus annual compensation, and that his obsession with earnings-per-share was the right way to run a media company at this time of immense disruption. But it's not.
The New Yorker article revealed decades of accusations against Moonves. What happens to CBS over the next few years is likely to expose his failing as a media mogul as well.
This column does not necessarily reflect the opinion of the editorial board or Bloomberg LP and its owners.
Joe Nocera is a Bloomberg Opinion columnist covering business. He has written business columns for Esquire, GQ and the New York Times, and is the former editorial director of Fortune. He is co-author of "Indentured: The Inside Story of the Rebellion Against the NCAA."