Brexit Is Driving Compensation at Asset Managers in Germany
(Bloomberg) -- (Machine translation provided by Google and reviewed by Bloomberg editors)
Compensation prospects for employees of asset managers in Germany are very good, not least because of Brexit, according to study by headhunter Banking Consult exclusively provided to Bloomberg. A portfolio manager with at least seven years of work experience, for example, is already earning a fixed salary of 160,000 euros and a bonus of 96,000 euros per year at the upper end of the scale today, the survey finds.
"Asset management is one of the industries hit hardest by Brexit," Thore Behrens, Vice President of the Frankfurt-based company, said in an interview. "This is due to the deep integration of portfolios and customer structures between continental Europe and the UK."
British institutions as well as many fund managers from the U.S. and Asia, who have chosen London as their European hub and may soon lose easy access to the EU market, are affected, according to the study.
"Many asset managers are planning to expand their staff in continental Europe over the next few years" Behrens said. "That also means that the battle for top talent will intensify extremely." This applies not only to the sales side, but also to portfolio management, middle and back office areas as well as risk and compliance, he added. "Germany is ideal for sales because of its favorable geographic position."
In addition, foreign asset managers - especially those from Asia and the Middle East - want to expand their market share and presence in Europe which will intensify competition even more, the study finds.
Landesbank Hessen-Thueringen Girozentrale (Helaba) recently confirmed its forecast that half of the financial jobs relocating from London are coming to Frankfurt. This would correspond to at least 8,000 employees over a period of several years, it said. China International Capital Corporation Ltd. (CICC) and Bank of Taiwan have recently opened offices in Frankfurt.
The study by Banking Consult examines the current compensation levels including bonuses for various positions within the asset management industry in Germany: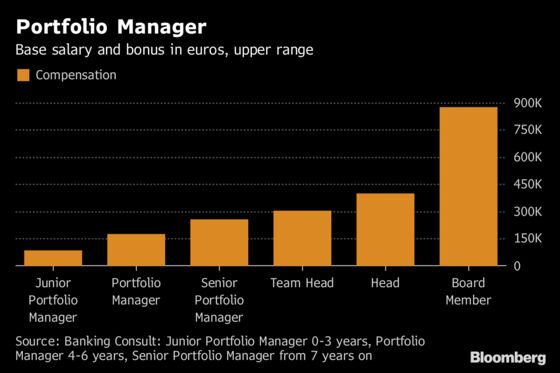 A portfolio manager who just started the job earns around 63,000 euros in the lower compensation range and 84,000 euros in the upper range. Anyone with experience of seven years or more can expect at least 143,000 euros and, at best, 256,000 euros. A department head earns 400,000 euros in the upper range.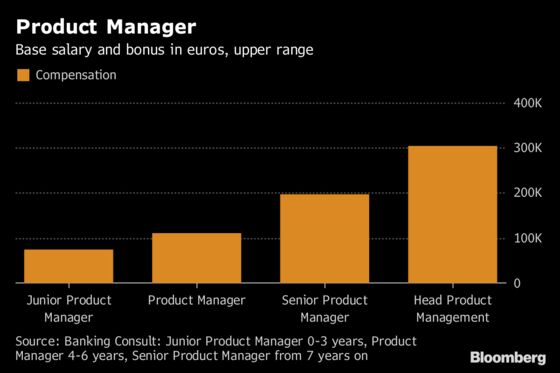 In the first three career years, a product manager can earn around 61,000 euros in the lower compensation range and around 75,000 euros in the upper range. Someone who has been working in this field for seven years or more receives between 117,000 and 196,000 euros. A product management head may expect 304,000 euros in the best-case scenario.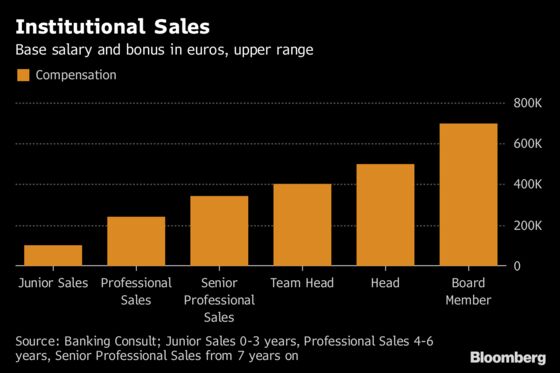 In institutional sales, around 69,000 euros can be expected in the lower compensation range and 100,000 euros in the upper one for a junior position. Starting with a work experience of seven years, the levels ​​increase to 170,000 euros or 340,000 euros, with the bonuses in the upper range accounting for about 50 percent.
The study is based on specific salaries in Germany, which stem from the work of the head hunter, as well as discussions with customers and candidates.
Original Story:
Brexit treibt Vergütungen bei Asset Managern in Deutschland
Reporter on the original story: Stephan Kahl in New York at skahl@bloomberg.net
Editor responsible for the original story: Erhard Krasny at ekrasny@bloomberg.net