Le Maire's Italy Visit Reminds That France Too has Budget Issues
(Bloomberg) -- French Finance Minister Bruno Le Maire came to Italy to say how he's been reassured that Italy's budget deficit won't breach European Union limits, and ended up having to issue assurances that his own country's budget deficit won't exceed those same rules.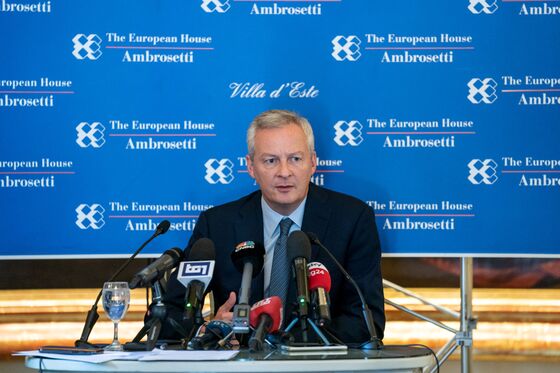 "In 2017, France went below a 3 percent deficit for the first time in 10 years and we exited the procedure for excessive deficits," Le Maire said Saturday at the Ambrosetti Forum in Cernobbio when asked about France's deficit. "The efforts we asked the French to make were not intended to be nullified in two or three years."
Slow growth this year has raised doubts that France can keep reducing its budget deficit. The economy expanded 0.2 percent in each of the first two quarters of the year -- slightly less than supposed euro zone laggard Italy -- after growing 0.7 percent in each of the two previous quarters.
Le Maire said this year's deficit will be 2.6 percent or 2.7 percent "depending on growth." He said "redressing public accounts is not negotiable," but didn't say what steps would be taken should the deficit overshoot.
Countries in the euro zone commit to keeping their deficit below 3 percent of economic output, though most countries overshot considerably during the financial crisis and have been slowly working their way back down since.
The anti-establishment parties that won Italy's March 4 elections had said they wouldn't feel bound by the 3 percent limit if that meant renouncing campaign promises to cut taxes, lower the retirement age, and introduce payments to the poor. They have dialed back those statements after financial markets pushed up Italian borrowing costs.
Deputy Prime Minister Matteo Salvini, who had earlier suggested he wouldn't heed the 3 percent limit, said Saturday at Cernobbio that the budget would follow EU rules "as much as possible."
Le Maire said he'd been reassured by Italian Finance Minister Giovanni Tria that his country would respect European guidelines. "I think all Italian political leaders are aware of their commitments," Le Maire said.
The Italian administration ousted in March had projected a shortfall of 0.8 percent of GDP for next year, but Tria sees the gap rising to at least 1.5 percent, newspaper La Stampa reported Thursday.
While Italy is well within the 3 percent limit, the EU has pushed for narrower deficits to bring down its debt, which at more than 130 percent of GDP is the second-largest ratio in Europe after Greece. France's debt was a non-negligible 97 percent of GDP at the end of 2017.