CBS Preparing to Announce Moonves Exit Soon as Allegations Mount
(Bloomberg) -- Les Moonves will step down as chief executive officer of CBS Corp. after being accused of sexual harassment by a dozen women, part of a larger settlement that will also end a legal dispute between the company's board and its controlling investor, according to people familiar with the deal.
CBS will announce Moonves's departure and its settlement with shareholder National Amusements Inc. this week, mostly likely in the next 24 hours, said the people, who asked not to be identified because the agreement isn't yet public. CBS will also appoint five new board members, two of the people said.
Moonves, who led CBS to the pinnacle of the TV industry with shows like "The Big Bang Theory" and "N.C.I.S.," will leave in disgrace after being accused of using his power to prey on women. Moonves, 68, has acknowledged having relations with some of the women making allegations, but denied ever abusing his authority or using force.
The company plans to pay Moonves a nine-figure settlement, but there will be strings attached, people with knowledge of the situation said. Some of that money will go to charity, and the rest will depend on the outcome of an ongoing investigation into Moonves's alleged behavior, they said.
"The CBS board of directors is committed to a thorough and independent investigation of the allegations, and that investigation is actively underway," a board representative said.
Moonves's departure leaves a critical vacancy atop the owner of the most-watched TV network in the U.S. His deputy, Joe Ianniello, is expected to serve as CEO on an interim basis while the board conducts a search for a long-term successor.
CBS's board opened an investigation into Moonves after six women accused him of sexual harassment in a New Yorker article in July. Moonves held onto the CEO job after the story sparked an initial outcry and spoke on a call with analysts just a few days after it was published.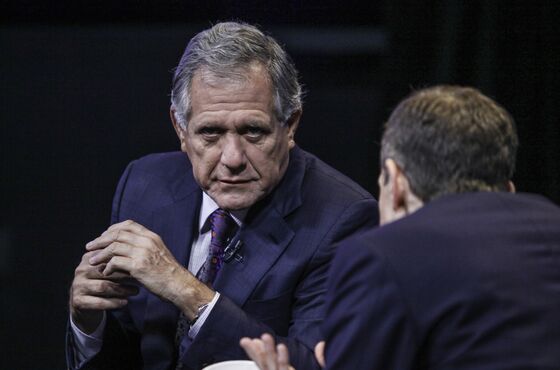 Negotiations to oust Moonves accelerated once the company's board learned the New Yorker was about to report more claims against the executive. Six additional women have come forward to accuse Moonves of harassment or assault, with the claims stretching back decades.
The latest reported incidents occurred in the 1980s and early 2000s and include claims that the executive forced women to perform oral sex on him, exposed himself, and used intimidation and physical violence, according to the New Yorker story. The author is Ronan Farrow, whose reporting previously helped topple movie producer Harvey Weinstein.
Moonves, in a statement to the New Yorker, acknowledged three of the encounters, while maintaining that they were consensual. "The appalling accusations in this article are untrue," the executive said, adding that he has "never used my position to hinder the advancement or careers of women."
One of the women filed a complaint late last year with the Los Angeles Police Department, but prosecutors declined to pursue charges because the statute of limitations had expired, the New Yorker reported, citing unidentified law-enforcement officials.
Moonves had been leading CBS's efforts to strip National Amusements of its control over the company. The CBS board voted to dilute the investor's stake earlier this year, prompting a legal dispute in Delaware. That fight was due to come to a head in court next month.
The allegations against Moonves weakened his position and encouraged a contingent of board members to push both for his ouster and a settlement of the legal dispute. Under the terms of the accord, National Amusements will retain its 80 percent voting stake in CBS and promise not to force a merger with Viacom Inc., the other media company it controls.
National Amusements, backed by the billionaire Redstone family, will also get another wish: a refreshed board. CBS will appoint five new members to a board whose composition was largely unchanged over the past decade. CBS recently added a few new board members at the urging of National Amusements.
The settlement would represent a near-total victory for Shari Redstone, who just two years ago orchestrated the dismissal of Viacom CEO Philippe Dauman. Dauman had served as her father Sumner Redstone's attorney and presided over Viacom as its value plummeted.
Moonves had far more success at CBS, and was at one point an ally to Redstone. Yet the two grew estranged as Redstone pushed to combine CBS and Viacom, and Moonves chafed under his newly assertive vice chair.
Like Dauman, Moonves was one of the highest-paid executives in the media industry, and could walk away with a small fortune in his settlement. Under his contract, he was owed as much as $180 million in severance -- as well as a production deal. He's expected to net less than that in this settlement, much of it contingent upon the investigation.
Investors have long respected Moonves's stewardship of CBS, but they appear eager to have the drama behind them. The shares climbed nearly 6 percent last week amid reports that the company was negotiating an end to his tenure. It remains down 5 percent this year.