Erdogan Says Turkey Won't Watch Idlib Killings on Sidelines
(Bloomberg) -- Turkey won't watch the killings of tens of thousands of innocent people from the sidelines, President Recep Tayyip Erdogan said after Russian President Vladimir Putin rejected his call for a cease-fire in Idlib, Syria's last rebel stronghold.
Turkey won't be part of a game to further the interests of Syrian President Bashar al-Assad, Erdogan said. He had warned earlier of a looming "catastrophe" as the Damascus regime's forces prepare to fight the last major battle of the seven-year civil war.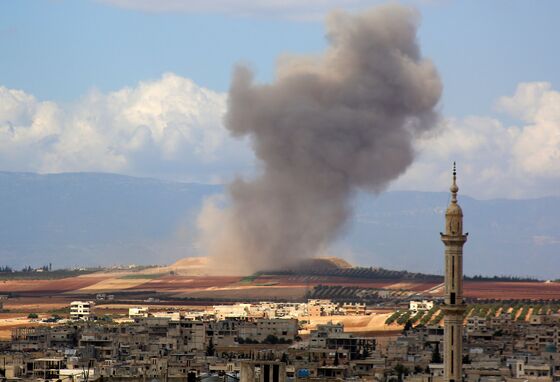 "We will neither watch from the sidelines nor participate in such a game," Erdogan said in a message on Twitter, several hours after Putin on Friday rebuffed his call for a cease-fire in Idlib at a summit in Tehran. Erdogan warned at the summit that the province, home to almost 3 million people, is at risk of turning into "a lake of blood."
Turkey, which is sheltering the largest number of Syrian refugees in the world, is bracing for a fresh wave of refugees from Idlib, where tens of thousands of radical militants and Turkey-backed moderate rebels are threatened by a looming attack by Syrian forces who are reinforced from the air by Russian warplanes.
"Idlib is a ticking bomb. We can turn it off and start a new process in Syria if the international community gets serious about the Syrian war and shows that they do care about the Syrian people," Erdogan's spokesman Ibrahim Kalin wrote in an article published by Daily Sabah on Saturday. "Any attack on this province of 3.5 million people will lead to a major humanitarian catastrophe. It will trigger another wave of migration into Turkey and from there to Europe and elsewhere," and undermine all political efforts under both the Geneva and Astana processes.
Idlib was declared a de-escalation zone under the Astana agreement between Turkey, Russia and Iran in March. All three nations have established military posts in the province to monitor for any flare-ups of violence. Turkey has 12 outposts on the the perimeters of Idlib.
"The presence of Turkish soldiers there is probably the only guarantee to prevent any major assault, because the Russian jet fighters and the regime ground forces cannot afford attacks while Turkish soldiers are there," Kalin said. "We know that they do not care about civilians and legitimate, moderate opposition forces. Any attack on Idlib in the name of eliminating terrorist groups would undermine the Astana process."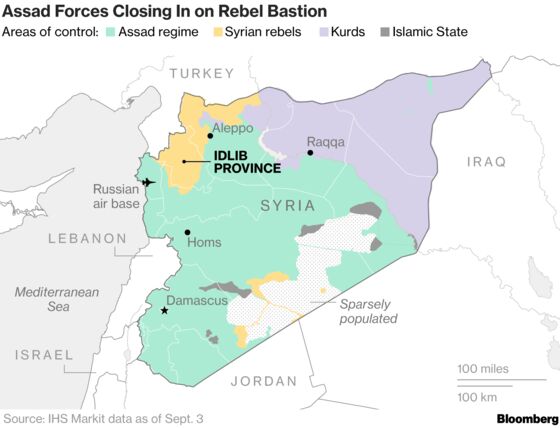 Following the Friday summit with Russia and Iran, Turkey's state news agency Anadolu published a piece, criticizing Iranian TV for broadcasting portions of the meeting with the heads of state that were supposed to be off limits to the media.
That including when Erdogan's demand to include a call for Idlib cease-fire in the meeting's final communique -- a request turned down by Putin. The statement ultimately reiterated a previous call on militants in the province to disarm.
Kalin's opinion piece on Saturday showed that Turkish foreign policy officials may be losing faith in Iran and Russia -- both of which emerged as Turkey's close partners in the conflict after Ankara and Washington fell out over whom to support in Syria's civil war.
"The regime and its backers, i.e., Iran and Russia, have also used the Daesh monster to justify their policies of drawing a new map in the region," Kalin wrote, referring to the Islamic State by an Arabic name. "They all have destroyed or weakened the moderate Syrian opposition groups both militarily and politically."