Tariffs Could Dent China's Expensive Taste for U.S. Fruits
(Bloomberg) -- China's growing middle class has snapped up U.S. shipments of fruits and nuts in recent years. But that demand is now under threat amid the brewing trade war between the nations.
The U.S. exports about $13 billion dollars of fruit and tree nuts annually, with about 15 percent of that going to China and Hong Kong, David Magana and Roland Fumasi, senior analysts at Rabobank, said in a report emailed on Thursday. The Asian nation's demand has grown four times faster than buying from the rest of the world, they said.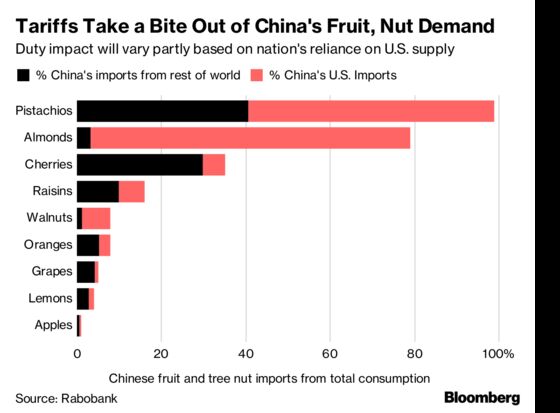 While strong consumption in other nations will keep global demand for most of the U.S. goods positive over the next marketing year, which ends in July, China's tariffs will still have a "significant" impact on the industry and increase pressure on prices, Magana and Fumasi said. The duties range from 45 percent to 60 percent, they said.
The impact of the fees will vary, partly because of China's reliance on U.S. supplies for some products.
Almond exports will likely take the smallest hit, dropping between 5 and 10 percent, and pistachio shipments are forecast to fall less than 15 percent, Rabobank estimates. China imports almost 80 percent of its almonds and nearly all of its pistachios, and the U.S. supplies more than half that demand.
Cherry and grape shipments will be hurt the most, with exports expected to fall more than 20 percent, the bank said.