Brazil Assassination Attempt Changes Outlook for Markets
(Bloomberg) -- The assassination attempt that upended Brazil's presidential race is also resetting the outlook for the country's markets.
Brazil equities, the currency and sovereign bonds have all rallied since front-runner Jair Bolsonaro suffered a near-fatal stabbing at a campaign rally Thursday, and RBC Capital Markets to Aberdeen Asset Management have made favorable comments about Brazilian assets in the aftermath.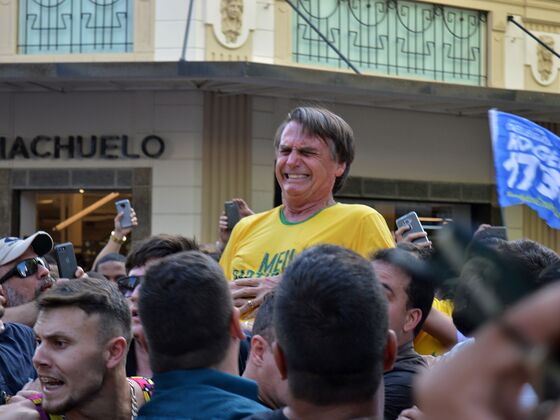 The surprising reaction stems from speculation that the right-wing Bolsonaro -- who is expected to stage a full recovery -- will get a boost of sympathy, elevating the chances he can burst through a crowded field of contenders to win the ballot next month. It's not so much that investors are enamored with Bolsonaro's policies; after all, the candidate has given very few details about his plans. But the idea is that his victory would be better than the alternative, a return to rule for the left-wing Workers Party.
"The fact that violence has reached this level is, by itself, a terrible development," said Tania Escobedo, a foreign-exchange strategist at RBC Capital Markets in New York. "That being said, for markets, a win for Bolsonaro would be even slightly positive. Some market participants interpreted Thursday's event as a potential boost for his campaign, a way for him to win sympathy and strengthen the main pillar of his campaign, reducing violence."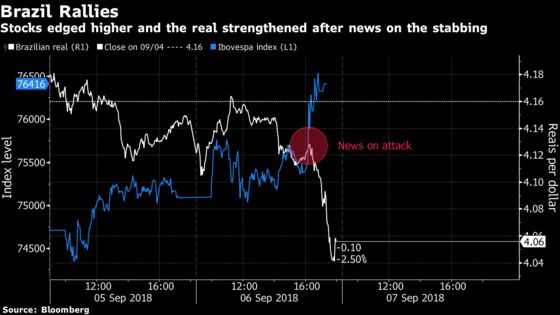 The Ibovespa stock index rose as much as 1.9 percent Thursday in the immediate aftermath of the attack, and the real jumped more than 2 percent, nearly erasing losses for the week. Brazilian assets abroad extended gains Friday while local markets were closed for a holiday.
Brazil's October election is considered crucial for the country's future, with the potential to usher in an administration that will strive to fix Brazil's fiscal accounts or drag it backward by scrapping a spending cap and returning to excessive spending. It's also the most disputed in decades, with few of the dozen candidates gaining favor with voters amid widespread distrust of politicians and institutions after several corruption scandals. The unclear outlook has sent assets diving in the past month, with investors pulling money from an exchange-traded fund at the fastest pace ever and the currency nearing a record low.
While Bolsonaro led polls before the attack with 22 percent support, making it likely he'd make it to a second-round vote, surveys showed him losing in the final round. The former Army captain had just a sliver of the mandated TV and radio time for political advertising his opponents are getting, and suffered with a rejection rate of 44 percent -- meaning more than four in 10 voters just can't stand the guy. Critics focus on his inflammatory comments about women, homosexuals and black people, as well as what some call authoritarian tendencies.
But to investors, he's become a relatively safe choice when compared with the Workers Party, which traders view as pushing for fiscal policies that would blow out the deficit and imperil economic growth. The party had tried to put forth former President Luiz Inacio Lula da Silva as its candidate, but courts have barred him from running after his conviction for corrupt practices, and his likely replacement on the ballot -- the former Sao Paulo Mayor Fernando Haddad -- is significantly less popular.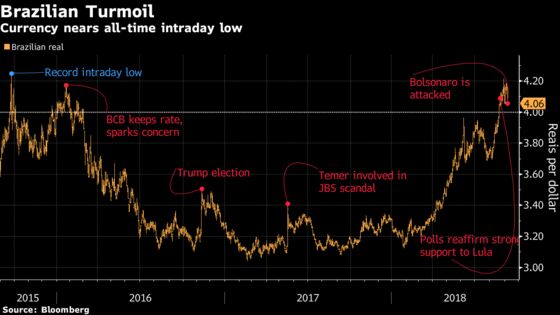 "The big loser out of this is the left," said Edwin Gutierrez, the head of emerging-market sovereign debt at Aberdeen Asset Management in London. The perception that Bolsonaro's attacker -- who said he was acting on orders from God -- was a left winger may discourage some voters from coming out in support of the Workers Party, according to Gutierrez.
Bolsonaro concedes he doesn't know much about economics and has made comments critical of privatization and foreign investment, but traders find comfort in his ties to adviser Paulo Guedes. The University of Chicago-trained economist is a fierce proponent of small government, free enterprise and reforms supported by investors. Bolsonaro has said he would make Guedes a "super minister," putting him in charge not only of the Finance Ministry but also Planning and Industry.
Investors have latched on to the conservative as other market-friendly candidates fail to gain traction. Geraldo Alckmin, who has a pro-reform agenda and enough political support to move them through Congress, has been stuck in fourth or fifth place in polls for months. Henrique Meirelles, the former finance minister seen by many as someone who'd pursue conventional policies, has just 2 percent of voter intentions.
Not everyone is sure that Brazil's markets are set for a long-term rally in the weeks left before the election. While investors prefer Bolsonaro to some of the alternatives, there still isn't any solid data on how much support he'll pick up after the attempt on his life.
"I would expect that the real might come under pressure again," said You-Na Park, a foreign-exchange strategist at Commerzbank AG in New York who forecasts the currency will fall more than 5 percent by the end of the year to 4.3 per dollar. "Maybe Bolsonaro gains in the next poll, but probably not enough to convince the market that he will win. Uncertainty about the election result will be still quite high."
Datafolha is expected to publish a new survey Monday, and Ibope has a new poll scheduled for Tuesday. The first round of voting is Oct. 7, and the runoff is scheduled for Oct. 28.
Bolsonaro was transferred to Albert Einstein hospital in Sao Paulo on Friday and his medical condition is stable, his son Flavio Bolsonaro said in a tweet. He underwent two hours of surgery to treat wounds to his intestine and contain severe internal bleeding the evening before, the doctors who treated him said at a news conference. The attack may force him to leave the campaign trail for at least two weeks.
"The impact of this episode on the electoral race will depend on Bolsonaro's health conditions," said Christopher Garman, Eurasia's executive director for the Americas. By his reckoning, Bolsonaro will get an additional boost if his condition worsens and he has to spend more time in the hospital. If that happens, "the 60% odds of Bolsonaro advancing to the second round gets an upside bias."