Technicals Flash Glimmer of Hope for S. Africa's Rand
(Bloomberg) -- South Africa's rand headed for an advance Thursday for the first time this week after data showed the country's current-account deficit -- a major vulnerability amid the emerging-market sell-off -- narrowing from a two-year high.
But it's not only the slight improvement in economic fundamentals and global risk appetite that's supporting a rand rebound. Technical indicators suggest South Africa's currency is due for a correction after slumping to a two-year low this week.
These three charts show why the rand may post gains in coming days:
The rand has lost almost 22 percent since the start of the second quarter for investors who borrow dollars to invest in high-yielding currencies, known as the carry trade. But that may be about to turn. The rand's one-month implied carry, which adjusts for volatility risk, is now at its lowest since October 2011, according to data complied by Bloomberg. Implied carry at these levels could indicate that movements in the dollar-rand cross have been extreme and could retrace.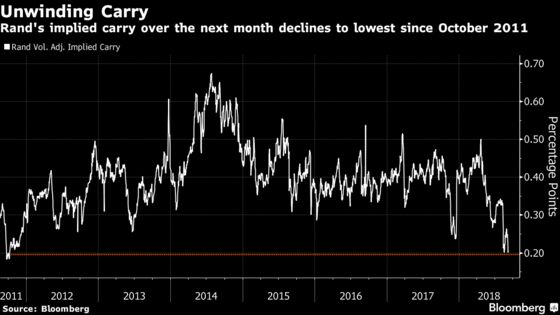 The predicted total return on the rand in the fourth quarter, based on interest rates at current levels and the median forecast for the rand versus the dollar, will be 12 percent, according to data compiled by Bloomberg. That's second only to Argentina's peso out of 24 major emerging-market currencies.
Momentum indicators suggest the rand is due for a rebound. The dollar's one-week relative strength index versus the rand reached 74 on Thursday, well above the 70 level that some traders see as a signal that the South African currency is oversold. The last time the gauge was at this level, in mid-January 2016, it heralded a three-month, 17 percent rally in the South African currency.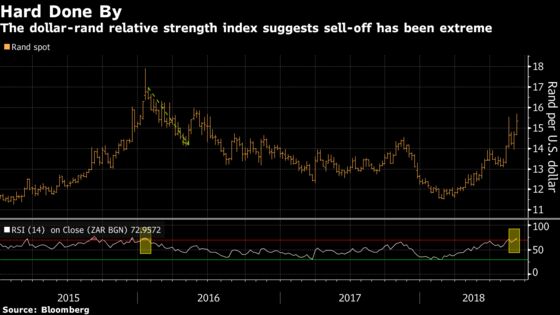 The rand has been in undervalued territory against a trade-weighted basket of currencies since June, according to its real effective exchange rate (REER). While the measure doesn't signal an immediate rebound, the currency may revert to fair value over time.
"We still see the rand and local bond yields as undervalued, even when the substantially weaker growth momentum is taken into account," said Zaakirah Ismail, an analyst at Johannesburg-based Standard Bank Group Ltd., which predicts the rand will gain to 13.40 per dollar by year-end.