Russian Yields Above South Africa's First Time Since 2016
(Bloomberg) -- Russian bond yields climbed above South Africa's for the first time since oil collapsed more than two years ago, as the prospect of a rate hike and further sanctions against the Kremlin outweighed the threat of a credit downgrade for Africa's most industrialized economy.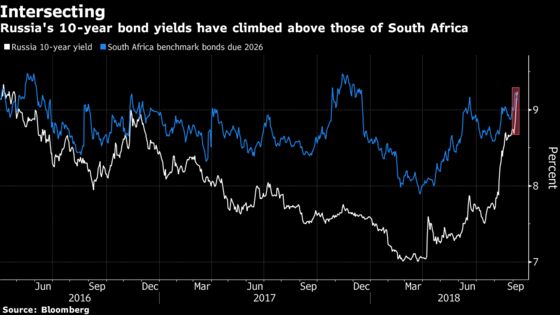 Benchmark yields in South Africa soared to the highest since December this week as the rand slumped and data showed the economy had entered a recession, prompting speculation Moody's Investors Service will join Fitch Ratings and S&P Global Ratings in cutting its assessment of the country's credit to junk.
But Russian bonds fared even worse. Yields breached 9 percent for the first time since May 2016, and kept rising on Friday as South African yields recovered on the back of a rebound in the currency. Investors are speculating that the first Russian rate hike since 2014 could be approaching and that tougher sanctions are in the offing in the wake of the spy-poisoning saga.
Yields on benchmark 2026 South African government bonds dropped six basis points on Friday to 9.12 percent, compared with a rise of 11 basis points to 9.24 percent for their Russian peers.