Pound Climbs as EU Is Open to Irish Border Backstop Solution
(Bloomberg) -- The pound advanced to the strongest level this month after the European Union's chief negotiator, Michel Barnier, said that he was open to the idea of simplifying checks on the Irish border.
Gilts fell on the remarks, which were part of a transcript released by the U.K. parliament of his meeting with the Brexit select committee earlier this month. The headlines spurred some investors to cover their short positions on sterling, according to Neil Jones, head of hedge fund sales at Mizuho Bank Ltd.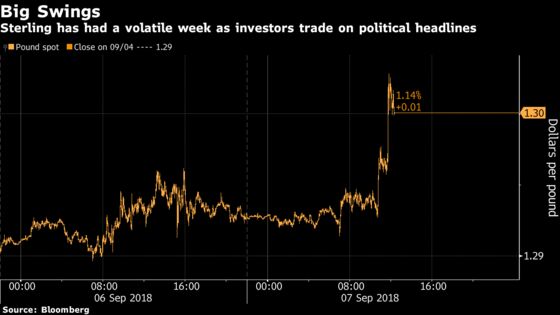 The pound's fortunes have been dictated by Brexit headlines this week, gaining as much as 1 percent on Wednesday as the British and German governments were said to have abandoned key Brexit demands.
"It confirms our longer-term positive outlook, which is predicated upon the expectation that the U.K. and the EU will arrive at a mutually beneficial deal by the end of the year," said Valentin Marinov, head of G-10 currency strategy at Credit Agricole. "The Barnier comments are supposedly bringing us closer to that. That said, we are not out of the Brexit woods yet, and there are other thorny issues ahead that could cause market uncertainty."
The pound surged 0.7 percent to $1.3020 and 0.8 percent to 89.31 pence per euro, while the yield on 10-year gilts rose three basis points to 1.44 percent.