Philippine Central Bank Pledges `Strong' Action on Inflation
(Bloomberg) -- Philippine central bank Governor Nestor Espenilla flagged another interest-rate hike to curb inflation and said an out-of-cycle policy meeting is an option, while warning he will go after currency speculators.
"The Bangko Sentral ng Pilipinas will take strong immediate action using the full range of instruments in its toolkit in order to respond to the emerging threats to inflation and inflation expectations," Espenilla said in a mobile-phone message reply to questions Friday.
"The follow-through actions will also address other threats to higher inflation such as excessive exchange-rate volatility not consistent with underlying macroeconomic fundamentals," he said. A policy rate meeting outside of the scheduled six-week cycle is an option, he said. If that happens, that would be the first such meeting since the BSP adopted inflation targeting in 2002.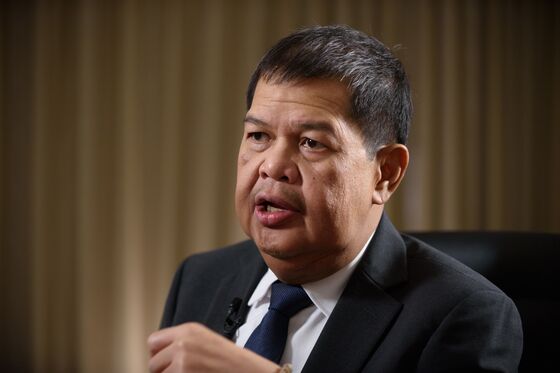 Espenilla, who's facing a crucial test since taking office last year, has been stepping up his rhetoric after inflation exceeded 6 percent for the first time since 2009 in August. A slumping currency is adding to his headache, with the peso falling to the weakest level since 2005 this week.
"What the market still wants to hear is how aggressive monetary policy tightening will be," said Joey Cuyegkeng, a senior economist at ING Groep NV in Manila. "A 50-basis-point rate hike will be necessary at this time to anchor inflation expectations."
Click to read the governor saying on Thursday he will weigh the need for more policy action
The peso closed 0.1 percent higher at 53.73 per dollar in Manila, after dropping as much as 0.3 percent. The currency had lost about 7 percent this year. The benchmark Philippine stock index fell a third day.
"The BSP will take all actions necessary to deal with speculative activity by market participants," Espenilla said.
To help companies with dollar requirements, the central bank will reactivate a program first introduced during the Asian crisis two decades ago that allows hedging of obligations with liberalized rules, the governor said.
Central banks are intensifying the battle against the deepening rout sweeping across emerging markets. Indonesia's central bank governor this week pledged to take "pre-emptive" steps and to be ahead of the curve as the rupiah slid to a record low.
Espenilla has already delivered 100 basis points of rate increases since May, including a 50 basis-point hike in August. The central bank is scheduled to next meet to decide on interest rates on Sept. 27.
"We're dealing with multiple shocks from different origins. So we'll need both strong non-monetary and monetary policy responses to quell inflation concerns decisively," Espenilla said earlier on Friday.