NFL Season Opener Draws Fewer Viewers for Third Year in a Row
(Bloomberg) -- The first game of the NFL season between the Philadelphia Eagles, the defending champions, and Atlanta Falcons saw a 12 percent drop in viewers, marking the third year in a row that ratings declined for the debut of the country's most popular sport.
Total viewership across both TV and online platforms was 19.5 million, said NBC, the network owned by Comcast Corp. That compares with 22.2 million viewers for the opening game last year and 25.4 million in 2016.
The drop is a troubling sign for the league and its broadcast partners, who have long counted on the NFL to attract large audiences for advertisers. There's been a debate over why ratings are falling. Some blame changing viewer habits, with more fans watching online. Others may have tuned out over moral or political qualms about player concussions or protests during the national anthem, which have been regularly lambasted by President Donald Trump on Twitter.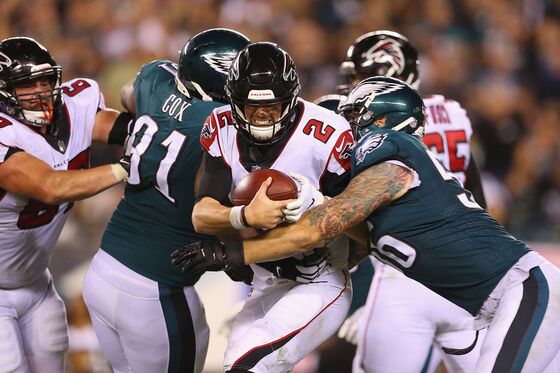 Nike aired a controversial TV ad during Thursday's game featuring Colin Kaepernick, who hasn't been on a roster since 2016, after he started kneeling for the national anthem to protest racism and police brutality in the U.S. The ad, which was released online this week, featured his face along with the slogan, "Believe in something. Even if it means sacrificing everything."
The image drew the ire of those who view Kaepernick -- and others who joined him in protest -- as selfish millionaires who disrespect America. Some posted videos of themselves burning Nike shoes and apparel or cutting the swoosh logo off their clothing.
Earlier this week, Trump tweeted: "Just like the NFL, whose ratings have gone WAY DOWN, Nike is getting absolutely killed with anger and boycotts. I wonder if they had any idea that it would be this way? As far as the NFL is concerned, I just find it hard to watch, and always will, until they stand for the FLAG!"
The ratings may have been hurt by a storm in Philadelphia that delayed the kickoff and forced the game to end after midnight on the East Coast. The game itself, won by the Philadelphia Eagles, was also filled with penalties and poor play.
While the ratings were down, Thursday's game saw the best viewership for any sporting event since the Winter Olympics earlier this year, NBC said in a statement.