Danske Evidence Points to 'Illegal' Acts, Danish Government Says
(Bloomberg) -- Denmark's minister in charge of financial legislation says it now seems very likely that "illegal" acts were committed in connection with laundering allegations against Danske Bank A/S that are still being investigated.
"A lot suggests that things have happened that are illegal," Business Minister Rasmus Jarlov said by phone on Friday. "Therefore, I am glad that the authorities are investigating this case to the bottom and drawing the conclusions that ought to be drawn."
The comments follow a report in the Wall Street Journal that $150 billion flowed through Danske's Estonian unit between 2007 and 2015. Though it's by no means a given that the entire amount can be deemed suspicious, Jarlov said it's now clear that "enormous" amounts are being looked at in connection with the laundering investigations.
Danske Chairman Ole Andersen said in an email to Bloomberg that "it is clear that the issues related to the portfolio were bigger than we had previously anticipated.
"We take the matter very seriously, and are committed to understanding the full picture," he said, reiterating comments the Copenhagen-based bank has made each time a new, bigger figure has been revealed in connection with the case.
For now, Danske is the target of criminal investigations in Denmark and Estonia amid allegations its Estonian unit was used to launder between $8 billion and $9 billion in illicit funds, mostly from Russia, between 2007 and 2015.
Chief Executive Officer Thomas Borgen, who was the bank's head of international operations during much of the time in question, has apologized for failing to act sooner to prevent the laundering. The bank is due to publish the conclusions of an internal probe this month, and has urged the public not to draw conclusions based on figures it says are taken out of context.
Estonia's Finance Ministry issued a similar plea on Friday.
"We'll be able to talk about more specific amounts only after the end of the investigation because surely not all money from abroad is suspicious in terms of money laundering," Marten Ross, deputy secretary general for financial policy and external relations at the ministry in Tallinn, said by email.
Shares in the bank fell as much as 7.3 percent after the report on Friday, putting Danske Bank at the bottom of Bloomberg's European index of financial stocks, together with ING Group NV, another bank tackling a money laundering scandal.
On his Facebook page, Jarlov said Denmark's fraud squad has made it a "top priority" to get to the bottom of case that might lead to "punishing Danske Bank." In the interview, he made clear it's up to the courts to decide on any possible punishment.
Jarlov also said the latest figure mentioned in the media isn't surprising, given information provided by Danske. The bank said in July it intended to donate 1.5 billion kroner ($233 million) in profits from its Estonian unit to an unspecified cause, an amount Jarlov said made it clear that the size of the suspicious transactions is "significant."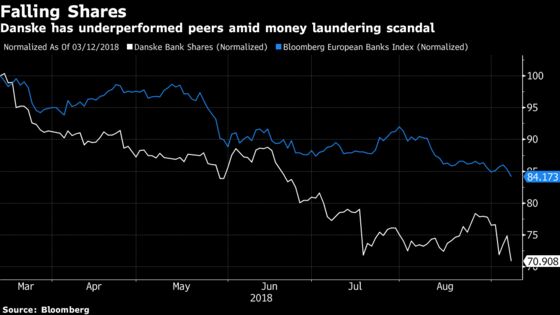 Danske's chairman, Andersen, said the bank expects its internal probe "to be finalized in the very near future, and we will share the conclusions once they are completed."
But some politicians indicated they were growing impatient. Jeppe Kofod, a Danish member of the European Parliament's financial crime committee, called on Danske Bank to release its internal report immediately, in response to the Wall Street Journal article.
Jarlov said he doesn't have "much insight" into Danske's internal probe. But he also said it's "clear that it isn't enough for us that the case is being investigating by Danske Bank."
The scandal has raised questions about the need for Borgen, and even Andersen, to step down. According to a Bloomberg survey of nine analysts conducted before the Wall Street Journal report, the likelihood of the Danske CEO staying on until the end of this year is about 50 percent. By the end of 2019, the analysts put the probability at about 40 percent.
Mattias Frithiof, a credit analyst at Swedbank AB, points out that "it is still unclear how much of that potentially was illicit."
"The market will move on quicker once the issue has been dealt with, which most likely includes some changes in senior management, knowledge about the size of the fine, and proof that improvements have been made," he said.
Denmark's FSA reiterated this week that failures in Danske's internal procedures resulted in the bank being used as a pipeline for launderers.
The Danish FSA plans to release new anti-money laundering guidelines for banks next month, but no amount of rule-making could have prevented the breaches that are alleged to have taken place at Danske Bank, given governance holes there, said Stig Nielsen, the head of the agency's money laundering unit.
"Governance wasn't in place," he said. "It was gross negligence."
The head of Estonia's regulator, Kilvar Kessler, said his agency hasn't seen any report referring to $150 billion in flows. He also reiterated assertions that the FSA in Tallinn "repeatedly informed our Danish counterparts about the alarming share of non-resident business at Danske's Estonian branch" between 2012 and 2014.
"Credit risk at the branch office was for Denmark to supervise," Kessler said. "Considering the legislation that regards bank branches, I'd be rather surprised if it was revealed in Danske's investigation that Copenhagen didn't know what was happening at the Estonian branch."
Jarlov said Denmark has set aside additional resources in order to deal with the laundering case, adding that authorities in his country are going over the matter with their counterparts in Estonia.