EU's Barnier Puts Positive Spin on Theresa May's Brexit Plan
(Bloomberg) -- European Union chief negotiator Michel Barnier said "lots" of the U.K.'s blueprint for post-Brexit relations are "useful" and that he's open to new ideas to fix the Irish border problem. His positive spin on the divorce talks boosted the pound.
"In the White Paper there are lots of positive things, lots of useful things, just to make that absolutely clear," Barnier told a delegation of U.K. lawmakers on Monday, according to an official transcript. "I did not just reject the White Paper outright; that is just not true."
Barnier also told Austrian Chancellor Sebastian Kurz that 90 percent of the divorce agreement is complete, according to a government official speaking on condition of anonymity. Brexit is being done in two parts: first the divorce deal, which needs to be settled in the next few months to ensure an orderly exit. Alongside that, the two sides will agree to an outline of what their future relationship should look like. Once the U.K. has left, that agreement will be fleshed out into a detailed trade deal.
The EU negotiator also reiterated that he is open to alternative suggestions for keeping the Irish border open after the split. That's a major hurdle that needs to be overcome before a divorce agreement can be reached. Still, he went on to say there were "major problems" with the U.K.'s vision for a future customs arrangement and its plan to pick and choose parts of the bloc's single market.
Barnier's comments add to evidence that the two sides are working on getting a divorce deal secured, and could be willing to postpone some of the more difficult decisions about what the future relationship should look like until after exit day.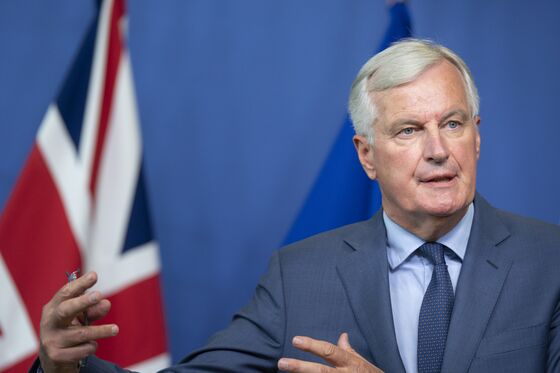 Earlier this week, Bloomberg reported that the British and German governments now prepared to put off some of the more detailed discussions about the future relationship until after Britain has left, a shift that could make it easier to reach a divorce deal.
Initially, the British side was aiming for a draft legal text setting out the future trade agreement before the country leaves the bloc. Until recently, Germany also wanted a very detailed blueprint.
The pound rose as much as 0.8 percent against the dollar after the transcript was released, before paring gains.
"I believe we will be able to get a deal," Chancellor of the Exchequer Philip Hammond told reporters in Vienna on Friday ahead of a meeting with his EU counterparts. "It's not in anybody's interest to have a chaotic Brexit, a Brexit without a deal."
The two sides are aiming for a divorce deal by mid-November so that the British and European parliaments can approve it by the time the U.K. leaves on March 29.
Barnier appeared to soften his language on EU demands for avoiding a hard border between Northern Ireland and Ireland. Prime Minister Theresa May has rejected the EU's version of the so-called "backstop" proposal -- an attempt to guarantee that there won't be a new border. That's because the EU's plan would see Northern Ireland operating under different rules from the rest of the U.K.
"We are open to discussing other backstops, so we can discuss this text, we can make changes to it," Barnier said. "We are ready to simplify these checks" on goods moving between Ireland and the U.K. after Brexit, "to have them carried out at a number of different places and have checks, thanks to technical means, which could take different forms."
But the U.K.'s alternative proposal for a temporary customs arrangement, which would see the U.K. keep the EU's tariff regime after leaving the bloc while being able to strike global trade deals, won't work, Barnier said.
"The British solutions mooted, such as a temporary customs arrangement, which suggests such a distinction between customs checks and regulatory checks, would turn out to be impossible, technically speaking, for us to implement," Barnier said.