The Tension Is Building Between Spotify and the Music Industry
(Bloomberg) -- Marc Cimino is frustrated. The Universal Music Publishing executive oversees one of the largest song catalogs in the world, collecting royalties for Nicki Minaj, Adele and Justin Bieber.
Since songwriters have long complained about how little they make, Cimino is accustomed to arguing for more money. But Spotify Technology SA, the world's largest paid online music service, is testing his patience.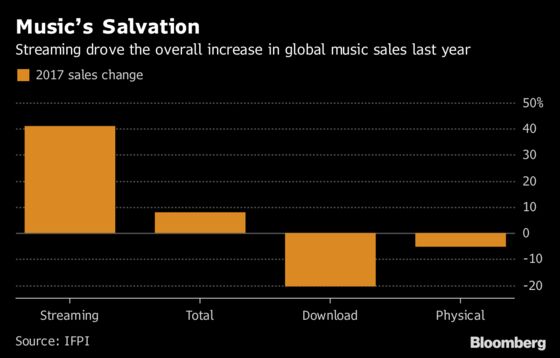 Spotify features music videos atop many of its playlists, which the company says is a way to promote artists to its 180 million users. But Cimino says the Swedish technology giant, with a market value of $32 billion, is supposed to pay more for videos and hasn't. The dispute, simmering for months, threatens to blow up relationships that have helped the record industry climb out of a near two-decade hole and let Spotify soar.
"We want to allow our digital partners to experiment and at the same time make sure our songwriters are paid properly,'' Cimino said in his first interview discussing the dispute. "Audio is different than video.''
The fight is ratcheting up tensions between Spotify and its biggest suppliers: Vivendi SA's Universal Music Group, Sony Corp. and Warner Music Group. It also fits a pattern. Spotify routinely introduces or tests new features without much warning or agreement on compensation, industry executives say. In response, they've hindered Spotify's expansion into new territories and moved to bolster ties with its biggest rivals.
The biggest test is yet to come. Stockholm-based Spotify is about to enter talks on new contracts with all three major record labels, and the deals will determine whether the company, which went public in April, can turn its money-losing service into a profitable one.
"They have a long way to go," said Hartwig Masuch, chief executive officer of BMG Rights Management, another major music company.
Spotify's shares have jumped 34 percent since the IPO. They were up 0.9 percent to $178.99 in early U.S. trading on Thursday.
Spotify and the record industry should be holding hands and singing Kool & the Gang's "Celebration.'' After 15 years of decline, global music sales have been growing since 2015, thanks to paid on-demand streaming.
Yet executives on both sides say their relationship has seldom been rockier. Music executives call Spotify a bad partner -- arrogant, unreliable, dismissive of their work -- and are quick to point out that such services are only popular because of the music. Spotify says the labels are backward-looking and stifle its attempts to innovate. Both sides are posturing ahead of high-pressure talks.
Some of the mistrust is natural. Record executives view technology companies as getting rich off their work and assign them much of the blame for the decline that began in 2000. But Spotify has a gripe too: Most of its revenue already gets paid out as royalties. And the streaming company is expected to lose almost $600 million this year.
Spotify has been looking to grow in ways that don't increase royalty costs. It tested a new advertising model in Australia and rolled out a new free tier to boost its overall user base. The company has introduced podcasts and funded original videos -- programming that could boost ad revenue.
Those are important gambles. While music services are still unproven on Madison Avenue, advertising is a high-margin business for companies that get it right. Yet the music industry views these experiments another way: as diluting their share of Spotify's sales.
"It's a strange relationship because the record labels want Spotify to succeed, but not too much,'' said Amy Yong, a Macquarie analyst. "It gives them too much leverage.''
The easiest way for Spotify to save money would be to cut labels out of the process entirely. While the company has said time and time again that it doesn't want to operate a label or own copyrights, it has been taking on functions of a record label. The company has developed tools to help artists plan tours and collect royalties, funded music videos and recording sessions, and held workshops with songwriters.
Earlier this year, Billboard reported that Spotify has been licensing music from some artists directly, paying hundreds of thousands of dollars to several independent artists. Artists who don't sign with a label keep more of their sales -- and so does Spotify.
That's angered music companies, which can be expected to seek tighter constraints on Spotify's ability to sign artists outright when the new contract talks start.
Record companies know Spotify can't cut them out completely. They control too much music and offer resources artists need. But Spotify's growth poses a threat. Successful independent artists, like Chance the Rapper, have created the perception that musicians may not need labels at all.
"The music industry hates that Spotify, YouTube and Apple Music reduce the relevance of the traditional music business,'' Masuch said. "Distribution is controlled by companies that aren't part of the traditional ecosystem.''
In its last deal, Spotify gave the labels more equity in the company and free access to listener data on artists in exchange for lower royalty rates. That calmed investors worried about access to music before the company listed on the New York Stock Exchange. Now, the stock is soaring and CEO Daniel Ek is less willing to compromise. He has spoken openly about cutting labels out of the process and floated the idea of charging the companies for data.
The record industry, meanwhile, is thriving again and reluctant to give Spotify another rate cut. They hope other players in streaming will reduce their dependence on Spotify -- and increase their bargaining power. Apple Music has passed Spotify in several key territories, including the U.S., while Google's YouTube and Amazon have launched new paid services.
One person who could bridge the gap -- manager-turned-Spotify-executive Troy Carter -– is leaving the company. He joined Spotify when it was being sued by songwriters and publicly rebuked by Taylor Swift. Carter sank millions into marketing artists while Spotify's audience kept growing.
Spotify hasn't named a new liaison to artists and just hired a chief content officer with little experience in music. Broader negotiations, run through Spotify's legal department, begin this fall with Universal's record division. Talks with Sony and Warner will follow. Vivendi plans to sell as much as 50 percent of Universal.
Even with new agreements, Spotify's efforts to innovate mean disagreements will arise.
"This isn't the first time, nor will it be the last where we are involved in a discussion or negotiation with them on how songwriters are fairly compensated,'' Cimino said.