Tel Aviv Bourse Enlists Actress to Get More Israelis Trading
(Bloomberg) -- One of Israel's most-popular stand-up comediennes is working a tough new crowd: pitching to her fellow citizens the benefits of investing in stocks as the local exchange pursues a trading revival.
The Tel Aviv Stock Exchange has enlisted Adi Ashkenazi, a comic actress and television host, to star in eight short video blogs posted on the bourse's website, its Facebook page and on YouTube. Since the campaign started in mid-August, 400,000 people have viewed the clips encouraging them to visit the TASE website to learn why, for example, shares rise and fall.
The project is the brainchild of bourse Chief Executive Officer Ittai Ben-Zeev, who would like to see the proportion of local retail investors potentially triple, from as little as 5 percent now. Average daily turnover dropped after the country was reclassified as a developed market in 2010, forcing Israeli companies to compete with those from the U.S., Europe and Japan for fund managers' attention and money.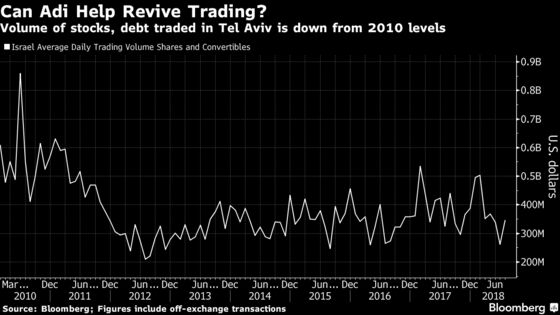 "Adi Ashkenazi is part of the financial education campaign, getting more people involved and understanding the basic concepts of capital markets," said Ben-Zeev, a former deputy head of capital markets at Bank Leumi Le-Israel Ltd., the country's largest lender by market value. He said he wants to create a "bourse of the people."
Don't expect dry analysis of share valuations or price-to-earnings ratios from Ashkenazi, 43. In one of her 20-second clips, she compares the criteria used to select the 36 members of the benchmark Tel Aviv Stock Exchange 35 Index with the rankings in an Israeli version of People magazine's line up of the sexiest people alive. The main stocks gauge, which was little changed as of 2:15 p.m. local time, is up 8.3 percent this year.
While many Israelis are indirectly invested in the exchange through their pension funds, the goal is to broaden knowledge and understanding of the benefits of holding shares and listed debt, potentially gaining from dividends and rising market trends, Ben-Zeev said.
The exchange this week launched a mobile app that costs four shekels ($1.10) a month. Users will receive real-time prices and the ability to connect with an Israeli bank to carry out a trade. The first test of any increase in retail interest will come by the end of the year, when the bourse will sell some shares of its own for an initial public offering.
For Ben-Zeev, the benefits of broadening the investor base to the market and the economy are clear.
"More companies will go public, there will be more factories, more employment, many good things will happen," he said. "It's an ecosystem and we are trying to put all the dots together."