Quake-Struck Hokkaido Accounts for 3.5% of Japan's Economy
(Bloomberg) -- Japan's northern island of Hokkaido, which was struck by a strong earthquake overnight, is a famed area for agriculture and open spaces that accounts for about 3.5 percent of the nation's economy.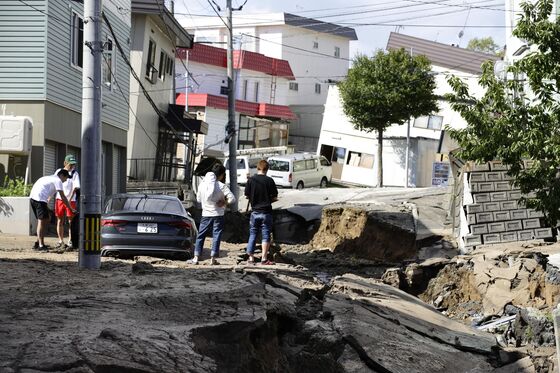 While there are no economic projections on the damage yet, the magnitude-6.7 temblor is the latest in a string of natural disasters from floods to heat waves that have hit Japan this summer. Some local communities have suffered greatly, particularly from flooding in western Japan, without making a significant dent yet in overall economic outlook.
Hokkaido's Economy
Hokkaido makes up 22 percent of Japan's land mass but only about 3.5 percent of gross domestic product.
It's still the eighth largest economy among Japan's 47 prefectures.
The island is famed for its agriculture, which is a key part of the economy, but the biggest sectors are sales, real estate and manufacturing.
Sources: Cabinet Office, Land ministry
Revised gross domestic product data for the three months through June are expected to show annualized growth of 2.6 percent when they are released on Sept. 10. The impact of disasters will most likely be felt in GDP for the July-September period, which may be followed by a rebound in the quarter after that, according to Hiroaki Muto, chief economist at Tokai Tokyo Research Center.
"The real economy isn't getting worse, so I think pent-up demand is building up," Muto said. He said companies are likely to make up for weakness this quarter by shifting activity to the three months through December, adding that "total production won't change."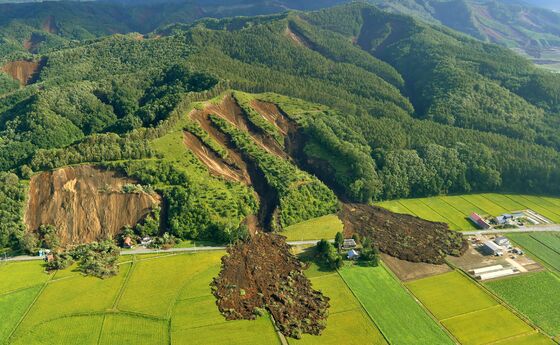 The heavy rains that hit western Japan in July caused flooding and landslides that killed hundreds of people, threw transport links into chaos and temporarily halted some factories. They were followed by soaring temperatures across the country, which sent tens of thousands of people to hospital with heatstroke.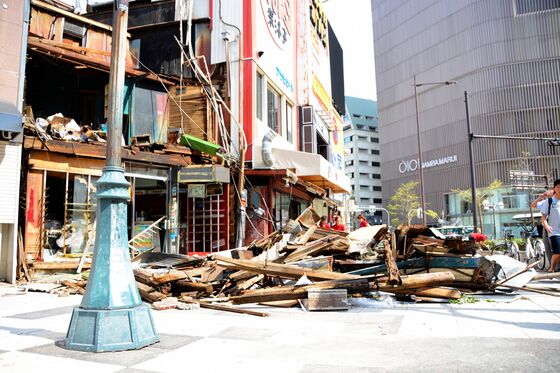 This week, Typhoon Jebi brought more deaths to western Japan, knocked out power to hundreds of thousands of buildings and closed the Osaka region's main airport.
The quake in Hokkaido has left the entire prefecture without any power, forcing all airports and trains to suspend operations.
Click here to see what Bloomberg Economics has to say about 2Q GDP.