Philippines to Gradually Boost Reserves That's at 6-Year Low
(Bloomberg) -- The Philippine central bank plans to gradually bolster its foreign-exchange reserves as the year-end overseas remittance season approaches, Deputy Governor Diwa Guinigundo said.
"If there's an opportunity for us to buy foreign exchange, we will buy," Guinigundo, who oversees the treasury department, said in an interview on Monday. "We'll be opportunistic in building reserves. Bit by bit, we'll buy."
Central banks in emerging markets have been draining their foreign reserves as they step up intervention to halt a slump in their currencies. Remittances from 10 million Filipinos overseas typically peak during the Christmas season and may provide an opportunity for the Philippine central bank to rebuild its dollar pile, which fell to a six-year low of $76.7 billion in July.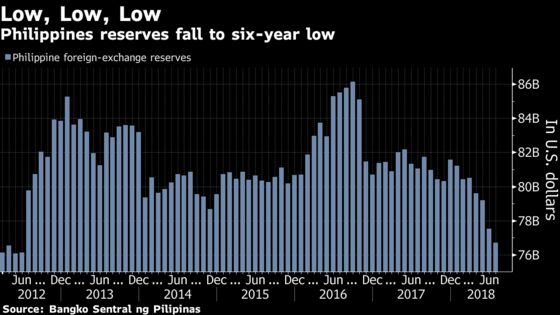 The Philippines is not alone in Asia. Indonesia's reserves have fallen to $118 billion in July from a record $132 billion in January as the central bank intensified intervention. India's reserves have also dropped this year.
Bangko Sentral ng Pilipinas will not allow its reserves, currently at about 7.5 times the nation's overseas purchases, to decline to the "minimum" 3 times import cover, Guinigundo said. The central bank is due to report Aug. reserves data on Friday.
"Whether you like it or not, the market looks both at the movement of your exchange rate and the level of your reserves," he said.
The peso has lost about 6.8 percent against the dollar this year, among the worst performers in Asia. It was little changed at 53.55 per dollar on Thursday, after hitting a fresh 12-year low on Sept. 5.
Gradual dollar purchases won't add pressure on the peso and won't "counter a fundamental direction of an appreciation or depreciation," the deputy governor said. Guinigundo echoes Governor Nestor Espenilla's policy of keeping a market-determined exchange rate and intervening only when necessary to curb extreme volatility.
"You have to buy some to mop up excess dollars in the market and beef up your reserves," Guinigundo said. "But only without going against the tide."