EM Pain Is Gain for Unloved Haven Currencies Now Flashing Green
(Bloomberg) -- A sell-off that's gripped emerging-market currencies has thrust the Japanese yen and the Swiss franc back into leading roles as havens from market volatility.
As they clock up gains along with the U.S. dollar, what's remarkable is how long it took them.
The Swiss franc turned positive for the year on August 29, and now is up 0.4 percent. After peaking in March, the Japanese yen weakened steadily until bottoming out on July 17. It's currently up 1.2 percent for the year.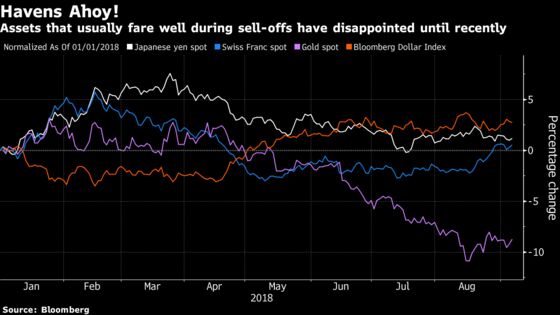 Strong U.S. growth data and higher interest rates from the Federal Reserve have kept the yen and the Swiss franc from rallying more substantively, analysts from Rabobank wrote in a Sept. 5 report. That's in spite of an emerging market sell-off that's seen investors take cover from volatility spreading from Indonesia to Turkey to Argentina.
"We expect that over the long term that the JPY and the CHF will remain investors' safe havens of choice," the analysts wrote. "In the short term we would also expect that any negative shock to the market is also likely to result in a sudden JPY and CHF outperformance."
There's been no shortage of market turmoil this year lending strength to the greenback which has posted a 2.2 percent gain in the Bloomberg Dollar Spot Index during the same period.
Conspicuously absent from the list of putative havens is gold bullion, which has sunk 7.6 percent year-to-date.