Coming Soon to CBS, Les Moonves's Final Episode
(Bloomberg Opinion) -- Finally, some clarity around the future of CBS Corp. — with an emphasis on some. But there are many lessons learned.
The media giant is reportedly negotiating an exit package for Les Moonves, a sign that the 68-year-old CEO is, in fact, on his way out. The long-time executive is credited with the TV network's ratings strength over the years and its robust new digital offerings. He's also recently been accused of sexual harassment, retaliation and fostering a culture harmful to women and their careers. Once again, a powerful entertainment brand has had to weigh the loss of a key man against the troubling revelations of his misdeeds, as if it were a toss-up.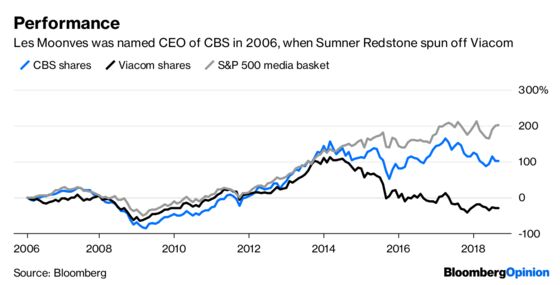 According to CNBC, the CBS board wants to be able to claw back some of the potential $100 million compensation package if an ongoing external investigation confirms the allegations about his behavior. As I wrote last year when NBC's "Today" show moneymaker Matt Lauer was fired for his own sexual misconduct, the message needs to be that no one is invincible and any business is better off—even financially—without someone who abuses their power and creates a threatening workplace that stymies talent and women's ability to climb the ranks. While CBS was relatively quick in its handling of Charlie Rose, its own disgraced morning-show host, the board appears to be entirely mishandling its latest #MeToo moment, as well as its months-long dispute with controlling shareholder Shari Redstone—and at such a crucial time for media businesses grappling with cord-cutting and new competition.  
CBS is also said to be working out a settlement with Redstone's National Amusements Inc. (NAI). After all, that fight was led by Moonves, who sought to thwart Redstone's plan to recombine CBS and Viacom Inc., her family's other property. The settlement details aren't yet worked out but may include some sort of standstill agreement with respect to the merger efforts. Even so, it's unlikely that a CBS-Viacom deal is completely dead.
Joseph Ianniello, chief operating officer of CBS, is said to be set to fill Moonves's shoes on an interim basis. It's hard to imagine him as a permanent replacement. Most of his two decades at the company were spent in managing its finances, rather than directly involved in programming decisions. And text messages between Ianniello and Moonves uncovered by Variety last month included him telling his boss, "I have your back to the end," as they prepared to battle with Redstone and attempted to strip NAI's voting power. 
What now? The next few months may go down like this: Moonves leaves, talk of a Viacom merger cools off, but friction remains. NAI could seek changes to the board and then eventually request that the companies again explore a deal, a transaction that I've written makes strategic and financial sense.
That brings me to the lessons learned in this bitter year for CBS:
The boardrooms of corporate America, in the face of the next controversy, should ask themselves, what would CBS do? Then, probably, do the opposite. CBS's board is dysfunctional and has exhibited disregard for good corporate governance practices. Debating the merits of a merger is one thing—and a good thing. But it is bizarre to pick a fight with the controlling shareholder in the name of what's in the best interest of, well, shareholders. Furthermore, rumors of an article detailing sexual misconduct by Moonves have been circling since late last year, and yet CBS's board appears to have done nothing to investigate and was unprepared when the New Yorker piece finally hit in July. 
Sexism finds its way all the way up to billionaire heiresses who control multi-billion-dollar corporations. From being grabbed by her face by a male CBS board member trying to get her to listen, to being cast as a combative outsider seizing her father's role, Redstone's experience in recent months and years is emblematic of how women are still often treated and seen in the workplace relative to their male counterparts.
The culture at CBS is tied to the inequality across Hollywood and the media industry. Half of TV programs in the 2016-2017 season employed four or fewer women in key behind-the-scenes roles, and little progress has been made in increasing the number of female writers, directors, producers and editors for both TV and film in the last 20 years, according to studies from San Diego State University's Center for the Study of Women in Television and Film. Hiring and promoting more women will curtail sexism in the industry and maybe even in society if it means stopping the perpetuation of sexist stereotypes on screen. 
Succession plans have been uncertain for much of the industry's aging leaders. Putting this year's events aside, Moonves would be nearing retirement anyway, and CBS hasn't had a clear strategy around that. Now that he's going out like this and without a permanent successor, it could destabilize the stock as he's incontrovertibly the face of CBS in a business that's still all about relationships. (Although shares of CBS rose about 3 percent Thursday.)
For powerful people, allegedly bad behavior can still bring about a big payday.
And the drama around CBS isn't completely over yet. 
This column does not necessarily reflect the opinion of the editorial board or Bloomberg LP and its owners.
Tara Lachapelle is a Bloomberg Opinion columnist covering deals, Berkshire Hathaway Inc., media and telecommunications. She previously wrote an M&A column for Bloomberg News.