Pound Jumps as U.K., Germany Said to Drop Key Brexit Demands
(Bloomberg) -- The pound rallied after the British and German governments were said to have abandoned key Brexit demands to potentially ease the path for the U.K. to strike a deal with the European Union.
Sterling shrugged off earlier weakness to climb toward $1.30, with the move capped on selling by hedge funds. Germany is ready to accept a less detailed agreement on the U.K.'s future ties with the EU in a bid to get a Brexit deal done, while the U.K. is also willing to settle for a vaguer statement of intent, according to people familiar with the matter who declined to be named.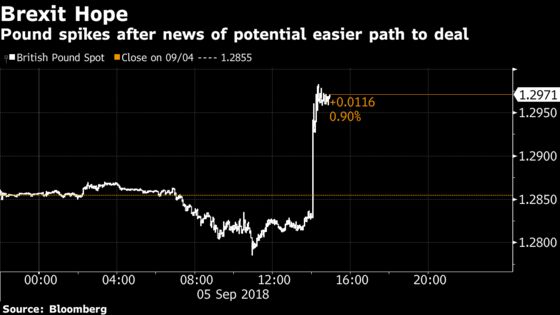 "This is a kicking the can down the road/fudge exercise and will be taken well by the market,'' said Jordan Rochester, a currency strategist at Nomura International Plc. "If the story is true then a transition will become the markets' base case again and this should further lift the pound."
The pound rose 0.8 percent to $1.2963 by 2:54 p.m. in London, after touching a high of $1.2983. Hedge funds were offering the pound at around $1.2960, a Europe-based trader said. Sterling gained 0.5 percent to 89.67 pence per euro.
The pound earlier fell to a two-week low against the dollar after the U.K. charged two Russian nationals over attempted murder, fueling concern the nation's elevated tensions with the Kremlin will worsen. The yield on 10-year U.K. government bonds also reversed course to rise four basis points to 1.47 percent.
Investors have been focused on the possibility of no deal before the U.K. leaves the bloc in March, a prospect that helped drive the currency to the lowest in more than a year last month. Nomura is positive on the pound against the euro as the risks of a hard Brexit look overpriced, Rochester said.