Mercedes Brings Hands-Free Driving to Its 40-Ton Highway Hauler
(Bloomberg) -- Daimler AG is equipping its flagship Mercedes-Benz truck with technology that can take the wheel in situations ranging from stop-and-go city driving to highway cruising, underscoring the quickening shift to an era of self-driving transport.
Using camera and radar systems, the revamped Mercedes Actros can independently steer, brake and accelerate without speed restrictions, a first in a mass-produced truck, according to the Stuttgart, Germany-based automaker. The technological flair extends to the so-called mirror-cam, with the car's surroundings shown on two 15-inch video displays inside the driver's cabin replacing traditional mirrors.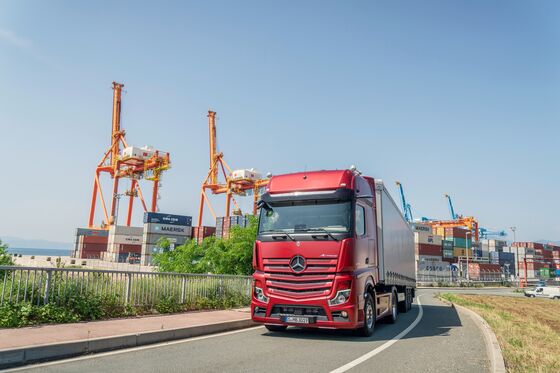 "Our Actros makes the logistics business significantly safer for all participants and more efficient for our customers," Mercedes-Benz trucks chief Stefan Buchner said in a statement ahead of the truck's premiere in Berlin on Wednesday. "The new Actros already puts the future of heavy-duty trucks on the road today."
The technology push comes at a critical time for Daimler. The German automaker is legally separating into three units: Mercedes cars, mobility services and the world's largest commercial vehicles business. The new corporate structure, which is set to go into effect next year, could pave the way for an eventual partial listing of the units.
Autonomous vehicles have also become increasingly important for logistics companies amid a shortage of drivers and pressure to save money. Consulting firm Roland Berger estimates that self-driving trucks could lower transport costs as much as 40 percent once they get rolled out in coming years.
While the Actros can't drive completely on its own, the new driver-assistance systems helps keep the truck in the lane, avoid collisions and initiate an emergency stop. The lack of drag from the side mirrors and other efficiency measures means the truck consumes as much as 3 percent less fuel on highways and as much as 5 percent less on overland roads, Daimler said.