Italy Bonds Rally as League Hits Reassuring Tone on Budget Plan
(Bloomberg) -- Italy's bonds rallied for a third day after the country's leaders reiterated a pledge to respect European Union deficit rules.
Yields on benchmark bonds fell to a two-week low as coalition member League was said to be discussing a 2019 budget deficit below the EU's 3 percent limit. That sent a reassuring message to investors about the government's spending plans following similar remarks earlier this week by Deputy Prime Minister Matteo Salvini.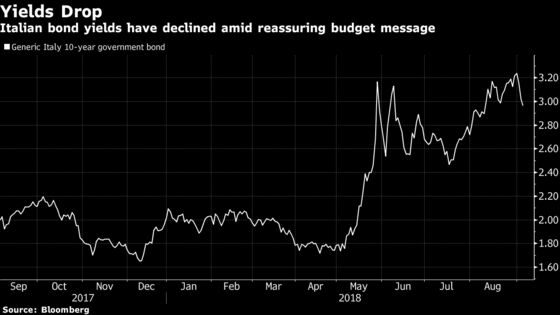 "There's follow-through from yesterday on relief that the government is saying it will adhere to EU budget rules," said Marc Ostwald, global strategist at ADM Investor Services. "Doubtless the rally was given an extra little shove this morning from the story in Il Messaggero that the League proposal for a flat rate of tax is to be postponed."
Italian bond futures for December broke above mid-August highs and yields on 10-year debt fell eight basis points to 2.94 percent, taking this week's drop to 29 basis points. The spread against their German counterparts narrowed to 258 basis points.
Italy's political leaders have scheduled another budget meeting for Wednesday. While the Il Messaggero newspaper reported that a proposed flat tax will be postponed, Salvini told the Il Sole 24 Ore newspaper that the policy remained a goal.