Big Rewards Await Those Brave Enough to Bet on Brazil, Banks Say
(Bloomberg) -- Brazil's stock market has more to give than take.
Analysts from some of the nation's biggest banks are sticking to their optimistic calls after a harsh month for Brazilian assets which sent the benchmark index to its lowest level in 14 months in U.S. dollar terms. Stocks are cheap enough to justify buying even as a rout hits emerging-market assets and with an all-or-nothing election just a month away, they say.
Brazilian equities show a 109 percent upside if there's a significant post-election fiscal adjustment and a 29 percent downside with no adjustments, in U.S. dollar terms, according to Bradesco BBI's analyst Andre Carvalho.
"The case of Brazilian equities is particularly interesting, with very asymmetric potential returns," Carvalho wrote in a Sept. 4 report. Bradesco BBI is overweight on Brazil and Chile in Latin America.
BTG Pactual and Itau BBA agree, even as market-favorite Geraldo Alckmin lags in polls with just with 9 percent of voter intention. According to a Datafolha survey from Aug. 22, former Army captain Jair Bolsonaro leads with 22 percent in a scenario that excludes jailed former President Luiz Inacio Lula da Silva, who has been banned from running due to a corruption conviction.
"We see a compelling risk-reward," BTG Pactual analysts Carlos Sequeira and Bernardo Teixeira wrote in a Sept. 3 report. The bank believes the chances of a right- or center-right candidate winning the electoral race are around 60 percent.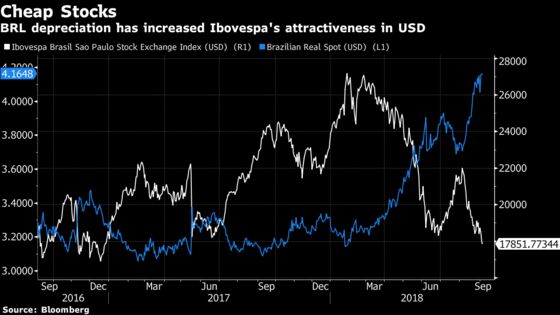 Itau BBA is also maintaining its overweight recommendation, leaving its target for the Ibovespa unchanged at 83,700 by year-end as Brazil is trading at a discount to its historical average.
The Ibovespa traded at 75,045 as of 12:19 p.m. in Sao Paulo Wednesday, and is down 7.8 percent in the past month.