`Unpredictable' Italian Bonds Prompt Warburg to Reduce Holdings
(Bloomberg) -- It's an old adage that markets don't like uncertainty, and that's driven one German money manager away from Italian bonds.
Warburg Invest KAG mbH, which oversees about 8.9 billion euros ($10.3 billion) has reduced its holdings in Italy's government debt in recent weeks and is underweight the securities, according to Hamburg-based money manager Andreas Schubert. With politics the dominant driver in the market, investing in Italian government bonds is currently unpredictable, he said.
"In searching for opportunities in the euro-area government bond sector, we have become more cautious on Italian government bonds," Schubert said.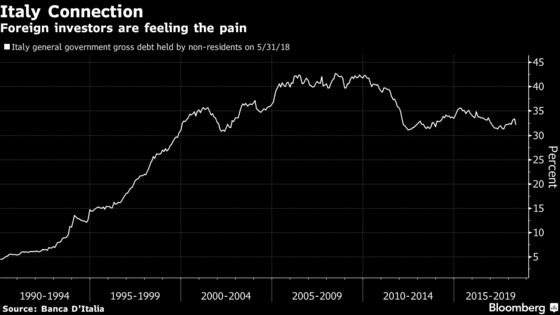 Italian bonds have been rocked in recent weeks by fears over whether the country's new government will threaten to breach the European Union's deficit limit of 3 percent of economic output at its September budget. Italy's leaders have been whipsawing markets and the EU with contradictory statements all summer. Deputy Premier Matteo Salvini scared investors over the weekend when he threatened to test the EU's ceiling, while Finance Minister Giovanni Tria said that the budget would calm investors' nerves.
The yield on Italian two-year bonds was at 1.05 percent Wednesday, having surged more than 70 basis points last month. It touched 1.50 percent Monday, a level not seen since June when the populist government took office.
The coalition of Five Star Movement and League isn't sustainable, according to Schubert, who foresees a break-up this year. Political decision-making processes are slow and non-transparent, he said. Whether this will change after the release of the government's first budget in the coming weeks is not clear.
The government is expected to set new public-finance and economic-growth targets by Sept. 27 and submit a draft budget to the European Commission by Oct. 15.
The EU is prepared to make concessions to Italy in order to keep the nation in the euro area, as the country is too important and the volume of public debt of around 2.3 trillion euros too high to rescue it, Schubert said. Italy's debt is widely held by foreign investors, so an escalation of the recent political turmoil could provide shocks to global markets.
Schubert is more optimistic on Spanish and Portuguese debt, and said he holds neutral-weighted positions. In addition, he sees opportunities in high-grade Italian covered bonds and European local government securities.
"The fragility of Spain has at least disappeared from public perception, because structural reforms were implemented there as well as in Portugal," he said.