WPP's Soft Margins Spoil CEO Read's Results Debut: Street Wrap
(Bloomberg) -- WPP Plc's profit margin downgrade will raise questions over the long-term margin growth targets, according to analysts.
Chief Executive Officer Mark Read's tenure got off to a rocky start, with the stock plunging as much as 8.6 percent in London, after he lowered the full-year profit margin outlook during his maiden earnings release as the head of the world's largest advertising company.
The company has successfully defended its accounts with some major clients and won others, boosting the shares in recent weeks. Even so, risks remain, including at its largest client Ford, which is conducting a global advertising review. Tuesday's comments signal WPP may consider disposing of significant parts of its market research assets later on, as it sets up a strategy update before the year-end, Liberum wrote.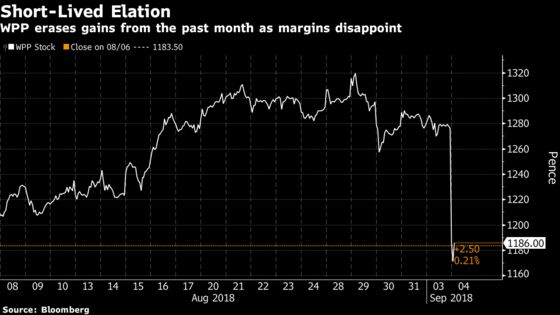 (Rating buy, price target 1,750p)
Revenue was slightly better, margins slightly worse than expected.
Main focus is likely to be on changes to targets, with full-year revenue guidance slightly improved but margin guidance down. Longer-term moderation of guidance "makes sense and is prudent, especially as WPP still has significant market research assets that its main competitors do not have and which drag down profits."
Company commentary suggests it may look to dispose of at least significant parts of its market research assets later on, which would both improve group performance and "essentially resolve" any balance sheet concerns.
(Rating equal weight, price target 1,375p)
Full-year guidance equates to a slight margin downgrade, results "more or less in line" with expectations.
"Key question for meeting is whether the historical margin targets really hold in WPP's quest to re-invigorate growth."
Kepler Cheuvreux, Conor O'Shea
(Rating buy, price target 1,500p)
The return of organic growth for the first time in six quarters "should outweigh" slightly softer margins.
Better revenue reflects improved performance in pitches with some notable client wins in Adidas, Hilton and T-Mobile as well as extensions with Mars and Shell.
Some key risks remain with Amex, GSK and WPP's largest client, Ford, which generates about 5% of group sales.
Bloomberg Intelligence, Matthew Bloxham and Paul Sweeney
"The twin long-term goals of revenue growth and margin improvement look increasingly challenging."
"The cost base will need some major surgery, and that could be hard to deliver without denting staff morale, which is essential for winning business in a people-based industry. Something might have to give."
Goldman Sachs, Lisa Yang and Aditya Buddhavarapu
(Rating neutral, PT lowered by about 1% to 1,423p)
Following recent share price strength, the weaker margin outlook and the slight delay to the strategy update will likely weigh on the shares.
Full-year margin being guided down 40bps is likely to raise questions over the long-term margin growth target.
Lower profit before interest and tax margin driven by associates, geographic/function mix and reinvestment in the business.