Rude Awakening for New WPP CEO as Margin Squeeze Hits Shares
(Bloomberg) -- No grace period for Mark Read, the new chief executive officer at WPP Plc.
Just 24 hours after getting promoted to the top job, Read had to watch the advertising giant's shares slide as much as 8.6 percent as its earnings and outlook disappointed investors, the biggest intraday fall since March.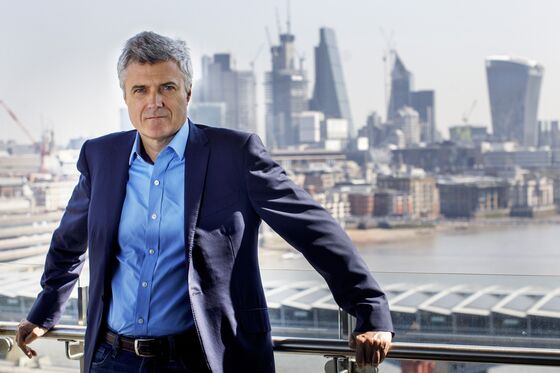 Read has led WPP's operations since his predecessor quit in April and the market reaction puts pressure on him to accelerate a turnaround.
Analysts fixated on his forecast for a profit margin squeeze as WPP spends more to revive growth at the world's biggest advertising group. WPP is striving to defend business with big clients -- especially in the U.S. where consumer goods giants are cutting their ad spending -- and power in online advertising is shifting to Alphabet Inc.'s Google and Facebook Inc.
WPP's founder Martin Sorrell in April quit the company he built from scratch after facing allegations of misconduct, which he denied. Company veteran Read, 51, has already sold minority stakes in some businesses, signaled he could merge some WPP brands and promised a new culture that breaks with Sorrell's more abrasive, macho style.
"Definite signs of progress already, on revenue growth and asset disposals, however the material slippage in the WPP operating margin may unnerve investors," said Alex DeGroote, an independent media consultant.
WPP shares were down 6.2 percent to 11.97 pounds at 11:56 a.m. in London, bringing their decline in the past year to 16 percent.
WPP now sees the full-year margin in line with a 0.4 percentage point like-for-like decline in the first half to 13.3 percent. Read downplayed the significance of the forecast, saying it was the result of adding 20 million pounds ($25.7 million) to a 5.3-billion-pound cost base.
"So you're slightly dancing on a pinhead," he said in a phone interview, attributing the higher costs to bigger employee incentives. "We're investing a little bit back in talent."
WPP also boosted the company's revenue forecast slightly for the year. Like-for-like revenue less pass-through costs, a key measure of WPP's operating performance, is now expected to grow in line with the first half of the year, when it rose 0.3 percent -- consistent with the average estimate in a company-compiled survey of analysts. It had previously forecast no change.
Read said Monday there were "no sacred cows" as he tries to overhaul a sprawling global business consisting of more than 100 brands to better compete with the U.S. tech giants and global consulting firms that are muscling further into advertising.
WPP on Tuesday said a review of its structure and underperforming operations, particularly in the U.S., was underway and the company would provide an update by year-end. Read told analysts in London that selling a stake in data business Kantar, which generates about 15 percent of the company's net sales, was one of the moves WPP was considering.
"Maybe some of the strategic benefits can be realized without 100 percent ownership of the company," Read said.
WPP kept a longer-term target to boost the operating margin by as much as 0.3 percentage point. "At this point we don't see why the margin won't continue to meet those targets,'' said Read.