U.S. Manufacturing PMI Slows to a Nine-Month Low: IHS Markit
(Bloomberg) -- The seasonally adjusted IHS Markit U.S. Manufacturing Purchasing Managers' Index slowed to 54.7 in August, down from 55.3 in July. This is the weakest improvement since last November. The slowdown was expected by economists surveyed by Bloomberg.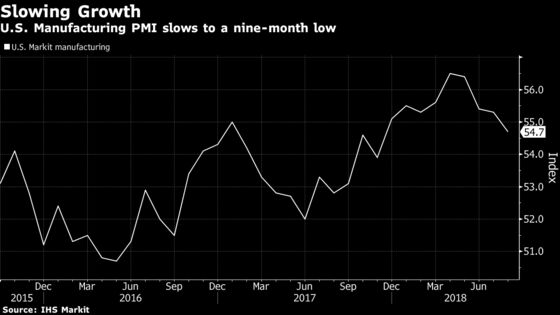 Renewed growth in export sales for the first time this summer highlighted improvement in the health of the U.S. manufacturing sector.
"Exports remain the key source of weakness for producers, with foreign orders barely rising in August after two months of modest declines. The strongest growth is being seen in consumer- facing companies, reflecting robust domestic demand, in turn linked to the strong labor market and buoyant consumer confidence," said Chris Williamson, economist at IHS Markit.
Inflation weakened to a six-month low, but prices remained elevated -- above their three-year average. The report indicated that higher prices were linked to "new trucking regulations, higher raw material prices (in part driven by tariffs), and supply shortages (especially for electronics components)." Companies continue to pass higher input costs to clients at a fast pace "to maintain profit margins following the impact of tariffs and higher input costs."
Williamson said, "two-thirds (64%) of companies reporting higher input prices explicitly blamed tariffs as the cause of increased costs. Almost one-in-three went on to cite tariffs as the cause of having to hike prices to customers."