Rand Tumbles With Bonds as S. Africa Recession Hits Markets
(Bloomberg) -- South Africa's rand headed for its weakest level in more than two years after data showed the country's economy had slipped into a recession for the first time since 2009. Government bonds fell the most in nine months as credit risk jumped and stocks took a hit.
The rand slumped as much as 3.4 percent, leading emerging-market currency declines against the dollar, after gross domestic product unexpectedly contracted in the second quarter, raising the nation's risk profile at a time when emerging-market assets are under pressure from a rising dollar and global trade tensions. It also increases the chance of a credit downgrade by Moody's Investors Service, which would plunge the country's local-currency debt into junk status.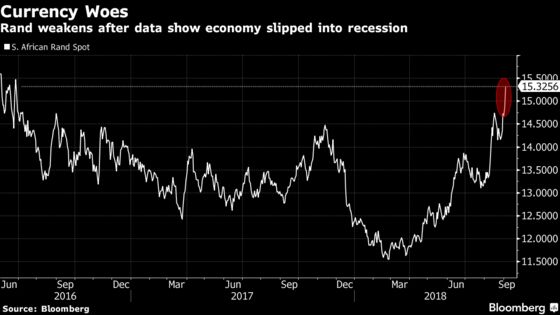 "Equities, bonds, rands... It's awful," said Abri du Plessis, a portfolio manager at Gryphon Asset Management Ltd. in Cape Town. "I'm struggling to see any light. There is now a distinct possibility that there will be a downgrade by year-end and we won't see the end of it for South Africa's markets."
The rand weakened to 15.2399 per dollar by 5:23 p.m. in Johannesburg. A close at this level would be the weakest since June 2016. The cost of insuring the country's debt for five years using credit-default swaps jumped 24 basis points to 259, the highest among emerging-market peers after Argentina, Turkey and Brazil.
The yield on benchmark 2026 government bonds climbed 20 basis points to 9.2 percent, the highest level since December. The yield on the country's $2 billion of Eurobonds due 2028 jumped 26 basis points to 6.16 percent, the most on a closing basis since the securities were issued in September 2016.
The benchmark stock index fell 1.4 percent, spurred by a 4.2 percent slump in the banking gauge as lenders including Absa Group Ltd. and FirstRand Ltd. fell. General retailers tumbled 4.3 percent, led by declines in the Foschini Group Ltd. and Truworths International Ltd.
"We've got financials and banks under quite a lot of pressure, also South African credit retailers leading the fall," said Michele Santangelo, equity research director at Independent Securities. "On the industrial side, we see the more South African-economic-centric businesses also under pressure."
The recession complicates the South African Reserve Bank's policy path as the consumer inflation rate creeps toward the upper limit of its inflation target. Weak growth makes it more difficult to raise interest rates, leaving the rand even more vulnerable at a time when developing nations are tightening policy.
The central bank "faces a major dilemma of whether it should raise rates due to rising inflationary pressure from a weaker currency or refrain from doing so due to very weak economic activity," said Piotr Matys, a London-based emerging-markets strategist at Rabobank. The contraction "keeps the bias firmly skewed" to rand weakness, he said.