Nike's Kaepernick Campaign Is Worth the Risk
(Bloomberg Opinion) -- When I saw the new Nike Inc. ad starring former National Football League player Colin Kaepernick in my Twitter feed on Monday, my first thought was, "Wow, that's risky." 
And my second thought was, "If any company can walk this tightrope successfully, it's Nike."
The ad, which is part of the the 30th anniversary of the famous Just Do It campaign, instantly entwined the company with the controversy surrounding Kaepernick, who as an NFL player protested police brutality against African-Americans by kneeling during the national anthem before games. It's all the more jarring considering the fact that Nike is a major supplier to the NFL.
There was instant blowback. Twitter is already lighting up with #BoycottNike and #JustBurnIt memes, and it is nearly certain the company will get some shopper defections over this. In the financial markets, Nike shares dropped more than 2 percent on Tuesday morning. But for Nike, this is a campaign worth getting behind. 
It helps that the apparel giant is taking this gamble from a position of strength. It's hard to overstate how powerful the Nike brand is. The swoosh is among the most recognizable graphics on the planet. According to a BrandZ analysis by Kantar Millward Brown that incorporates financial data and consumer survey results, Nike is the world's most valuable apparel brand.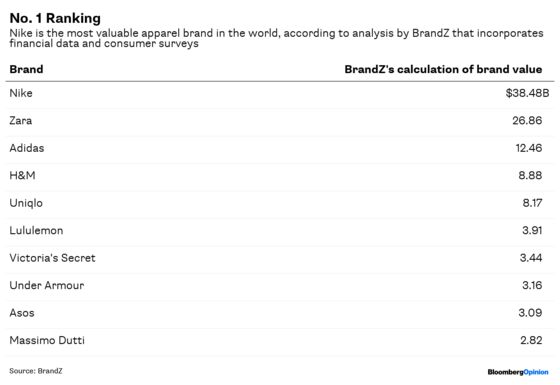 This is one of the most finely tuned marketing machines in the business — executives wouldn't have done this if they thought the repercussions would be insurmountable. And given that Nike has recently had several senior executives depart over issues related to improper workplace behavior toward women, it's a good time for the company to show it remains committed to inclusivity of all kinds.  
For those who say Nike should stay out of the political arena, here's the thing: The world as it is today makes that exceedingly hard to do. Politics has invaded many corners of our discourse and our lives that once seemed to be on a different plane. In that context, companies almost can't not wade into politics. And if they're going to do so, they might as well do it in a way that feels true to their brand and their corporate values.
We've seen major companies moving in this direction for several years now. Walmart Inc. CEO Doug McMillon in 2015 encouraged the governor of the retailer's home state, Arkansas, to reject a "religious freedom" bill. In 2016, Target Corp. published a statement saying it welcomed transgender employees and customers to use store bathrooms that correspond to their gender identity. Back in 2014, Chipotle Mexican Grill Inc. asked customers not to bring guns into its restaurants.
For Levi's and Dick's, it is too early to know the long-term impact of those moves. But with the others, I think it's clear that taking a stand didn't dent their sales momentum in a meaningful way. We're seeing that brands can engage in this kind of expression without being completely defined by it. 
And so when it comes to teaming up with Kaepernick, I say to Nike: Just do it.
This column does not necessarily reflect the opinion of the editorial board or Bloomberg LP and its owners.
Sarah Halzack is a Bloomberg Opinion columnist covering the consumer and retail industries. She was previously a national retail reporter for the Washington Post.