Macron Poll Dive Shows French Tiring of Him Faster Than Hollande
(Bloomberg) -- Emmanuel Macron's latest slump in opinion polls means the French leader is now more unpopular than his hapless predecessor Francois Hollande was at the same stage of his term.
Macron's approval rating dropped 10 points to 31 percent in an Ifop survey for Paris Match magazine and Sud Radio released Tuesday. At the same point, Hollande was at 32 percent. He went on to be the most unpopular president in the country's history.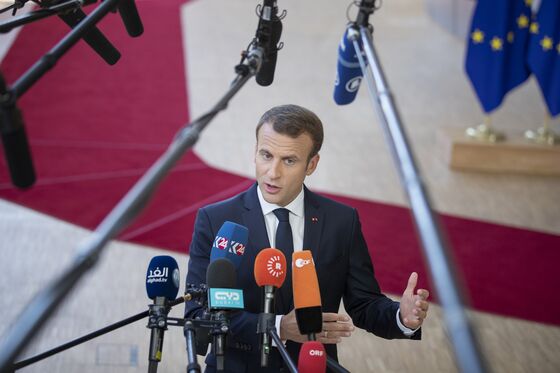 After just over 15 months in office, Macron is fighting to change voters' sense that he is aloof and detached from their problems. A vast majority of respondents said he didn't run a good economic policy or have a vision for the country and 78 percent said he wasn't in touch with French people's worries.
"The shift shows how his summer went," Frederic Dabi, Ifop's head of polling, told Sud Radio. "This is a horrible return to work for Macron."
His worst rating was among the youngest voters with 72 percent of the 18-24-years-old disapproving of him. Ifop interviewed 1,015 people online on Aug. 30 and 31. The margin of error was 2.8 points.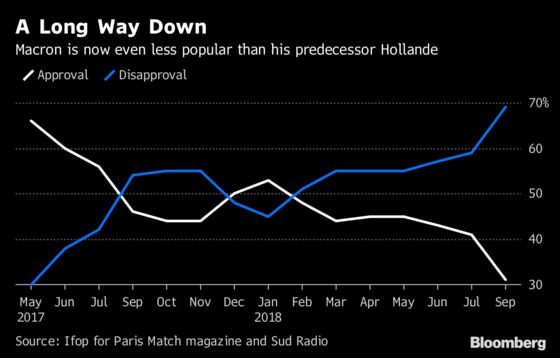 The 40-year-old leader went into the break buffeted by a scandal over a rogue aide and returned to a string of bad news on the economy and his reform agenda. Last week Energy and Environment Minister Nicolas Hulot resigned during a live radio show, complaining of the government's lack of ambition. For days now his administration has struggled to make it clear whether or not it will push ahead with changes to the way income tax is paid.
Macron meets with his budget minister and prime minister Tuesday to come up with a solution for the tax reform -- a plan initiated under Hollande and continued by Macron. He is also expected to appoint a new energy minister later in the day, according to French media. The Elysee presidential palace declined to comment.
Macron's domestic agenda will be dominated by a string of reforms in the coming months -- with some like his plans for the pension system likely to provoke further discontent. A majority of French people believe Macron's economic policies won't have a positive impact even by the end of his mandate in 2022, a separate Ifop poll published Sunday in the Journal du Dimanche showed.
And the political turmoil isn't over for Macron either -- Sports Minister Laura Flessel, an Olympic fencing champion, quit on Tuesday.
The government named Francois de Rugy, the speaker of the lower house, to take over the energy and environment portfolio while Roxana Maracineanu, a former swimmer, is the new sports minister.