Italy's League Discussing Budget Deficit Below EU Limit
(Bloomberg) -- The League, one half of the populist coalition running Italy, is discussing a 2019 budget deficit below the European Union's 3 percent of GDP limit to send a reassuring message about government spending plans. Italy's European partners say that might not be enough.
The government is working on a three-year time frame and "we won't do everything immediately," Italian Deputy Prime Minister Matteo Salvini told financial daily Il Sole 24 Ore. Salvini, who's the League's leader as well as interior minister, reiterated a promise to respect "all" EU restrictions.
Party leaders talked about a deficit below the limit at a meeting on Tuesday but haven't yet reached a final decision, said a senior party official, requesting not to be named discussing a private meeting. He declined to say whether the target could be below 2 percent. A top-level government meeting on the budget will be held Wednesday, Salvini said in an interview with Italian radio RAI.
That discussion misses the full picture, since Italy could be found in violation of EU rules even if it doesn't breach the 3 percent limit. The EU's fiscal rules require countries to maintain a deficit that allows them to reduce their debt if it is above 60 percent of GDP. Italy's debt burden is over 130 percent of GDP.
"It's also important in which form the debt ratio, which is out of the rules at the moment, will be declining over the next few years," Austrian Finance Minister Hartwig Loeger, who will chair a meeting of EU finance chiefs in Vienna on Friday, said in an interview. He said the EU must be ready to take action to ensure that Italy cuts its debt in line with the bloc's rules.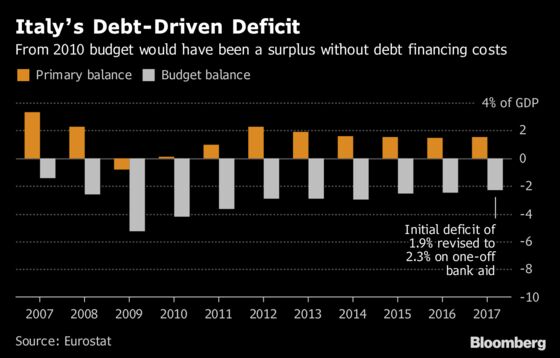 Italy's leaders have been whipsawing markets and the EU with contrasting statements all summer, pushing bond yields to a five-year high last week. Salvini scared investors late Sunday by floating the idea of a deficit near the EU's 3 percent limit. That was in stark contrast to statements made by Finance Minister Giovanni Tria that Italy would respect its commitments.
On Tuesday Salvini told Ansa newswire that his country "will respect all the rules" and will "help Italians live better without irritating those that observe us from on high."
The spread between Italy's 10-year bonds and similar German bunds narrowed to 266 basis points Tuesday from 291 on Friday before Fitch ratings changed its outlook on Italy to negative from stable citing budget concerns. The overall grade remains two notches above junk. Italian bonds continued to rebound on Wednesday, with the spread falling to about 263 basis points.
"The fear factor" will likely lead to significant volatility in the next few weeks, Citi analysts wrote in a note Tuesday.
Italy's previous government had agreed with the EU on a much tighter spending program to bring down the country's mountain of debt. The current administration won power promising voters a series of expensive measures from hefty tax cuts to some form of citizens' income and pension reform, that have raised concerns about financial sustainability.
"Even with a budget of 2 percent of GDP, however, many in the government might feel frustrated, as there won't be enough resources to fully implement the fiscal pledges" made by the parties, Deutsche Bank economists Clemente De Lucia and Mark Wall said in a report.
Tax cuts, pension reform, reducing bureaucracy, aid to municipalities and a national plan for infrastructure maintenance were discussed at the League's meeting on Tuesday, Salvini said in a statement. The budget was discussed as well as how to implement the party's program over a five-year legislative term, the statement said without giving further details.
"If you mechanically apply the numbers to the promises that have been made, it does lead to an outcome in terms of deficit that is quite disturbing," Goldman Sachs International's chief European economist Huw Pill said in an interview on Bloomberg Television.