Glass Ceiling Intact in Australia Where 7% of CEOs Are Women
(Bloomberg) -- The number of female chief executive officers at Australia's biggest companies rose by just three over the past year, according to lobby group Chief Executive Women, which is calling for better succession planning to further boost numbers.
The tally of female CEOs at S&P/ASX 200-listed companies rose to 14 from 11 in 2017, according to a report released Tuesday, helped by the appointments of Fortescue Metals Group Ltd.'s Elizabeth Gaines and Jeanne Johns at Incitec Pivot Ltd.
While that 7 percent compares favorably to S&P 500 or FTSE 100-listed companies, on 5 percent and 7 percent respectively, further progress won't be made until more women are appointed to "line roles" such as chief operating officer or heads of business units, the report said.
"Line roles are a critical pathway to the top job," said Chio Verastegui, a partner at Bain & Co., who led the data collection and analysis for survey. "Moving the needle towards gender balance across all levels of leadership will require a bolder, multi-pronged approach. Companies could consider strategies to rotate female talent across operational business areas to grant them broader exposure, and a more deliberate approach to succession planning in key feeder roles."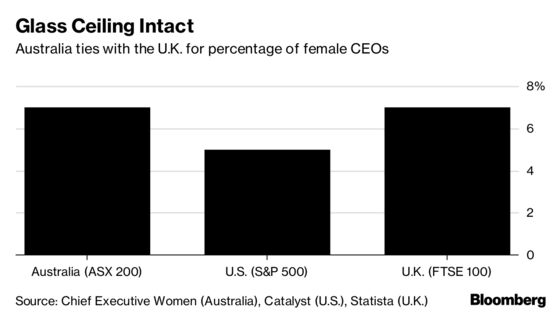 "Achieving gender balance within executive leadership teams across the ASX 200 has a way to go and requires commitment and leadership from each organization's chair, board, CEO and leadership team," Chief Executive Women President Kathryn Fagg said in Tuesday's report.
Amid a body of evidence that shows strong female leadership increases returns, Australia is seeking to boost the diversity of its boards. ASX Ltd., which operates the country's main stock exchange, said earlier this year it plans to force public companies to reveal the proportion of women at various levels of their organizations, as well as steps they're taking to increase female representation.
Among Australia's 200 biggest public firms, women held 28.2 percent of board seats at the end of July, according to the Australian Institute of Company Directors' gender diversity progress report, with 84 companies meeting the 30 percent target.