Advanced Micro Devices Surge Not Enough to Convince Analysts
(Bloomberg) -- Advanced Micro Devices jumped more than 9 percent Tuesday, adding to its already-impressive 145 percent year-to-date rally, after analysts from Jefferies and Cowen both raised their price targets to $30, matching the Street high.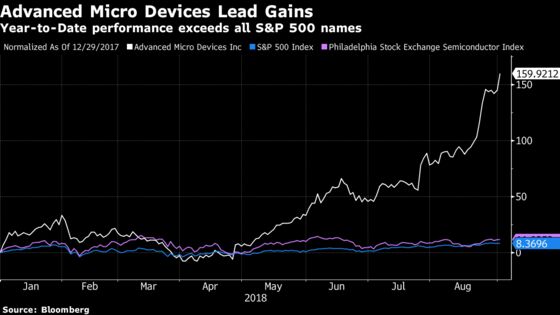 While the recent rally has rewarded investors with shares outperforming all other S&P 500 stocks, as well as every company in the widely-followed Philadelphia Semiconductor Index, analysts and their ratings have history on their side.
Buy recommendations finally exceeded hold ratings in the second quarter of 2018, for the first time in 16 years. Over that same period, Advanced Micro Devices saw a total return of 84 percent, which dramatically lags the S&P 500's 252 percent advance, and woefully under-perform's rival chipmaker Nvidia's 1,974 percent gain.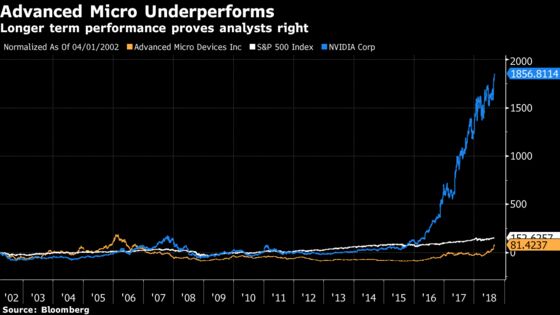 Despite balanced analyst ratings -- with 14 buys, 13 holds and 4 sells -- the average price target has risen 31 percent since the end of 2017 to $19 per share. That's still about 30 percent below the stock's current level. Even with the surge in shares this year, analysts seem to be using history as their guide and continue to see better opportunities elsewhere.