Turkish Lira Pares Losses as Central Bank Vows to Take Action
(Bloomberg) -- The Turkish lira pared a slide after the central bank said it would take action to support price stability, fueling speculation policy makers will raise rates when they meet next week.
The lira rose briefly against the dollar following the central bank's comments before slipping again. The monetary stance will be "adjusted" at its Sept. 13 meeting, the central bank said, after data that showed inflation surged more than expected in August.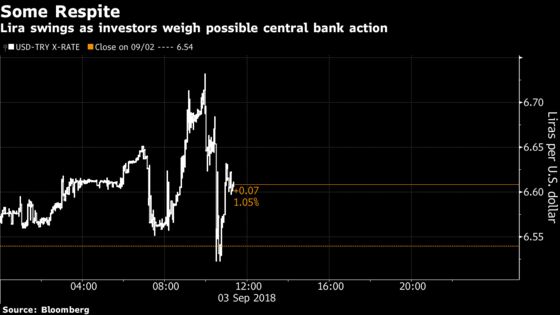 The monetary authority has raised the weighted average cost of funding by 700 basis points since December but that hasn't been enough to shield the lira from a rout that has seen it shed more than 40 percent of its value against the dollar. Data showed consumer prices rose 17.9 percent in August from a year earlier, more than three times the central bank's official target of 5 percent.
"By signaling a rate hike on Sept. 13 the central bank raised market expectations that monetary policy could be sufficiently tightened," said Piotr Matys, a strategist at Rabobank in London. "That said, such a pledge puts more pressure on the CBRT to deliver a proper rate hike. Essentially, the central bank raised the bar for itself."
The dollar gained 1.2 percent against the lira to 6.6205 by 1:17 p.m. in Istanbul, after surging nearly 3 percent following the inflation data. The lira was the worst performer among emerging-market currencies.
The central bank last month started to drive up the cost of funding by tightening liquidity, though unexpectedly kept its benchmark rate unchanged at its previous policy meeting in July.