Turkey's Lira Needs More Than Intent to Raise Interest Rates
(Bloomberg) -- The Turkish lira may have found its footing after the central bank signaled higher interest rates were around the corner, but some investors worry that any lasting relief will require a bold hike that it is loath to deliver.
Even after 700 basis points of monetary tightening since December, consumer-price growth has accelerated for five months, narrowing the inflation-adjusted policy rate to around 1 percent. Just to drive that back toward levels that afforded the lira some relative stability in June, the central bank would have to raise borrowing costs by another 400 basis points.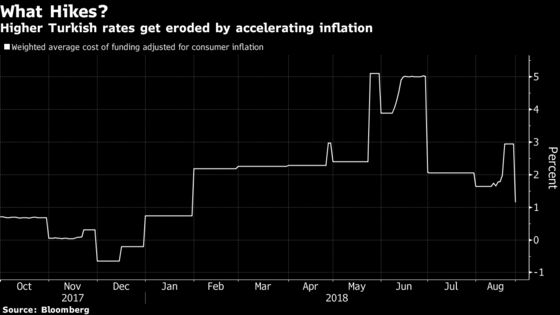 Central banks around the world have been pushed into action by emerging-market turmoil, with Argentina hiking rates by 1,500 basis points last week alone. Nomura International Plc says Turkey needs to raise its one-week repo rate by at least 575 basis points to 23.5 percent and it's not clear policy makers will be prepared to deliver such aggressive tightening.
"It gives the feeling they are running out of ammunition," said Guillaume Tresca, a strategist at Credit Agricole SA in Paris. "Market expectations are now running high for a bold rate hike. In our view, they can only disappoint markets," he said, adding he saw the lira weakening to 8.30 per dollar by December.
The lira slipped 0.3 percent to 6.6578 per dollar as of 10:29 a.m. in Istanbul on Tuesday. The currency fell as much as 2.6 percent on Monday before paring the decline to a loss of 1.5 percent on speculation that hikes were on the way after the central bank said it would take "necessary actions to support price stability." The next policy meeting is on Sept. 13.
The yield on Turkey's 10-year government bonds fell for a second day, dropping to 20.91 percent and extending its decline this week to 85 basis points.
Considering the pressure from President Recep Tayyip Erdogan to keep growth ticking along, it is no surprise that investor skepticism over the adequacy of any policy action is running high. By letting inflation run into the double digits for most of the last two years and relying on liquidity management instead of outright hikes the central bank has remained firmly behind the curve.
"I'm not very confident to say the least," said Inan Demir, an economist at Nomura. "If Monday's statement is a signal of unconventional policies, the market will be underwhelmed by the policy response."